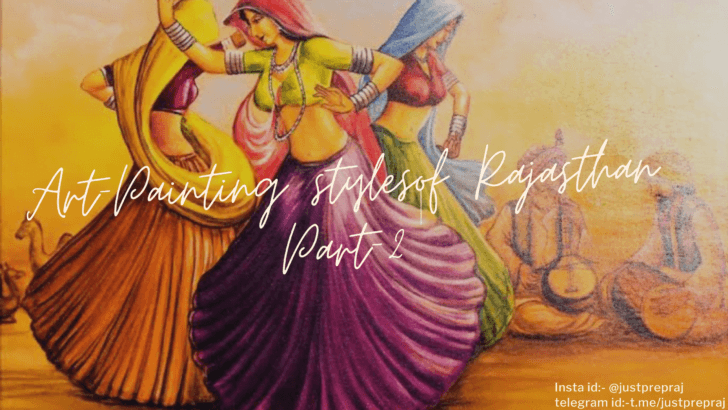 ART-PAINTING STYLES OF RAJASTHAN (PART-2)
Published on August 23, 2021 by Just Prep Raj |
Last Updated on March 15, 2023 by Just Prep Raj
HADAUTI SCHOOL – Kota, Bundi and Jhalawar sub-style
Bundi Sub-style
Theme – Paintings of Krishna Leela, Ram Leela, months, natural scenery, elephant fight, horse race, birds, animals, fruits, flowers, trees, hunting, scene of court, festivals, Ragrang Style – Use of yellow and red colours, fine clothing, influence of Mughal culture on architectural structures, female figures with chubby cheeks, pointed nose, parallel eyes. Main Work – The style progressed during the reign of Rao Surjan Singh. Colourful paintings known as Chitrashala were popularly made when Maharao Ummed Singh ruled. Famous Artists – Ramlal, Shrikrishna, Ahmad Ali and Surjan.
Kota Sub-style
Theme – It includes portraits of rulers, hunting and war scenes, court meeting, procession, religious events, description of Barahmasa, Krishna Leela, Raagmala. Style – Beautiful combination of colours like yellow, red, blue, green, and white used to make paintings attractive. Influenced by Vallabh Cult. Main Works – It was established during the rule of Maharawal Ram Singh. Miniature paintings of Kota popularised especially in 18th and 19th century. Ruler Maharaja Chhatrasal patronized the art style as a small volume of Bhagwat was painted. Famous Artists – Govind, Lakshmi Narayan, Lal Chand, Raghunath Das.
DHUNDHAD SCHOOL
– Amer,
Jaipur,
Alwar, Shahpura, Shekhawati, Uniyara Sub-style
Jaipur Sub-style
Theme – Paintings based on Raagmala, Durga Sapthati, Geeta Govinda, Kamasutras, Shrimdbhagwat Geeta. Style – Highly influenced by Mughal and Persian art culture, portraits of the rulers and eminent people. Main Works – mostly developed between 1700-1900, Sawai Jai Singh made efforts to promote and support. Isarlaat was build by Ishwari Singh, Sahibram made his portrait. Under Pratap Singh, many works on religion based were created. Famous Artists – Saligram, Lakshman Ram, Mohammad Shah, Ramji Das, Trilok and Raghunath
Amer Sub-style
Theme – Horses, elephants, wrestling etc. Style – Amalgamation of Mughal and Hindu culture. Main Works – Based upon Krishna Leela, Laila Majnu etc.
Alwar Sub-style
Theme – pictures of forests, gardens, trees, palaces, flora and fauna. Style – mixture of Jaipur nd Delhi style, miniature paintings. Main Works – work based on Krishna Leela, Raag-Ragini, It started during times of Raja Pratap Singh in 1775. Rao Raja Bakhtawar and Vinay Singh encouraged the traditional paintings of this style. Vinay Singh liked the painted manuscript of Gulistaan by Mahatma Sheikh Saadi. Later, Raja Balwant got the manuscript of 'Chaandi Path' painted. Famous Artists – Gulam Ali, Baldev, Dal Chand, Saligra, Buddha, Nanak, Jamunadas, Chotelal etc.