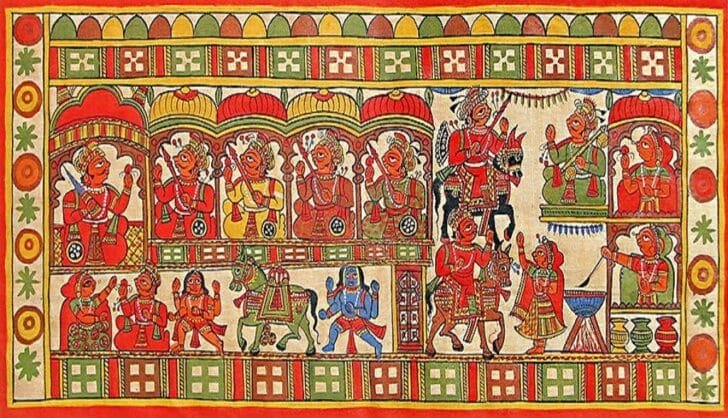 FOLK DRAMAS OF RAJASTHAN | RAS EXAM
Published on May 11, 2021 by Just Prep Raj |
Last Updated on March 15, 2023 by Just Prep Raj
INTRODUCTION | Rajasthan | Folk Dramas
Rajasthan is a land of cultural beauty. Folk dramas have a rich tradition as most of them represent the culture of tribal people of Rajasthan. It has been a medium of expressing cultural, religious, social or political realities of life. It is an art form which depicts epics, mythological stories or glorious life of celestial heroes.
         

KHAYAL
It was a famous during 18th century and considered to be the most important variety of folk dramas.

Its theme is to present a mythological story.

Regional diversity of Rajasthan gives us variety of Khayals.

Kuchamani Khayal – It has a humorous style and was composed by Lachchiram.
Shekhawati Khayal– It was composed by Nanuram of Chidawa. His other famous works are Heer-Ranjha, Harish Chandra, Bhartrihari.
Jaipuri Khayal– Artists of Guijankhana performed this Khayal. Female roles were played by the females itself.
Turra Kalangi Khayal– It was written by Shah Ali and Tukangir.
        Ali Bakshi Khayal, Kishangarhi Khayal, Nautanki Khayal, Manchi Khayal, Hathrasi Khayal are some other types.
         

RAMMAT
Its origin lies back in 140 years in the region of Bikaner.

On the festive of Holi and Sawan, there used to be a competition of folk poetry which took a form of the drama later.

In this musical folk drama, characters are known as

While the actors come up on the stage in their attire an make up to act and dance, the dialogues are sung with music by special singers sitting aside on the stage.

Nagada and Dholak are mainly played instruments.

Before starting their act, they devote a song to Ramdev Ji in his praise.

Songs are associated with Chaumasa, rainy season, Lavani and Ganesh Vandana.

Some famous Rammat themes are – Hidau Meri, Amar Singh Rathore, Sati Savitri, Gopichand, Bhartrihari, Harishchandra, Puran Bhagat etc.

Main writers of Rammat are – Mani Ram Vyas, Tulsi Ram, Phagh Maharaj, Sua Maharaj.

It is mainly performed in the region of Bikaner, Jaisalmer, Phalaudi.
         

TAMASHA
It was originated in Jaipur area during the times of Maharaja Pratap Singh.

The Bhatt family of Jaipur performs Dhurpad Gayaki in this folk drama. It is therefore known as Jaipuri Khayal.

Vasudeva Bhatt performed Gopichand and Heer-Ranjha Tamasha.

Tamasha is performed with music, singing and dance. Its dialogues are spoken in poetic form.

Akhada is an open stage where it is performed.
         

SWANG
Another important folk drama of Rajasthan. In this, actors dress up like God and Goddess and present mythological and historical stories.

The actors are called as Baharupiya.

Swangs of Chacha Bohra, Miyan-biwi, Jogi-Jogan, Bika ji are performed by the Rawals of Marwar.

Janaki Lal Bhand has emerged as a very famous Baharupiya artist at international level.
         

PHAD
It is an illustration of life of Lok Devata or Lok Nayak on 25-30 feet long and 5 feet broad piece of cloth.

Phad is recited along with the playing of musical instruments like Jantar or Raavan Hattha by Bhopas.

'Sainani' is a famous poem by Megharaj Mukul which has been used by Shri Lal Joshi of Bhilwara to create Phad on it.
         

NAUTANKI
It is prevalent in the eastern parts of Rajasthan like Bharatpur, Karauli, Dholpur, Alwar and Gangapur City.

It is performed on the occasion of marriage, auspicious occasions, fairs and other social celebrations.

Sarangi, Dholak and Shehnai are used as musical instruments.

Famous plays are – Roop-Basant, Naqabposh, Satyawadi Harishchandra, Laila-Majnu, Raja Bhratrihari, Bhakta Puranamal etc.

Natharam mandali is a famous group which performs mainly in Bharatpur and Dholpur.
         

GAVARI
It is performed by the people of Bheel community in Aravalli region of Mewar.

In Udaipur and other neighborhood areas, a festive of 40 days is celebrated by Bheels at the end of Monsoon period.

They worship Budhia Den and dedicate him Gavari.

The important themes are – Devi Ambad, Badshah ki Sawari, Bhinyavad, Banjara, Khadaliya Bhoot and a scene of lion and pig fight.

The main character of the drama is supposed to be an old man which is considered as incarnation of Shiva.
         

BHAWAI
It is performed in Rajasthan and Gujarat by the Bhopa and Bhopi in the form of Saga ji and Sagi ji.

Dholak, Janjh, Sarangi and Mashal is used in the play.

Baagha ji is known as father of Bhawai in Rajasthan.

Shanta Gandhi's 'Jasma Oden' is a famous work in Bhawai style.
         

GANDHARVA NATYA
Gandharvas are the professional dancers found in Marwar region of Rajasthan.

Two musical dramas are – Anjan Sundari and Maina Sundari.

Jain sects inspires the theme of the Gandharvas.
         

RAASLEELA
They are performed on the stage by the actors known as the 'Raasdhar'.

It is based upon the Puranas.

Leelas of Lord Krishna is acted on the stage.
         

DANGAL NATYA
It is performed by two groups as competitors facing each other.

There are around hundreds of people on each side.

They perform Katha or any historical act in poetry style.
         

NUKKAD NATAK

 
Usually performed at some crossing or corner of a village or a city.

Swangs of Bahrupiya, acrobatics of Natas, Gavari Natya are performed as Nukkad Natak.

Famous works are – Kangujari, Bohari, Surdas.
         

SAWARI DRAMA
It is based on religious and other historical stories.

Some famous dramas are of Kala Gora, Dev Sangod ka Nahan, Narsingh Avtar etc.
Other Popular Articles
राजस्थान प्रमुख भू-आकृतिक प्रदेश एवं उनकी विशेषताएँ | RAS | PRE | MAINS
भारत | मूल कर्तव्य | मौलिक कर्तव्य | RAS | PRE | MAINS
निर्वाचन आयोग | RAS | PRE | MAINS