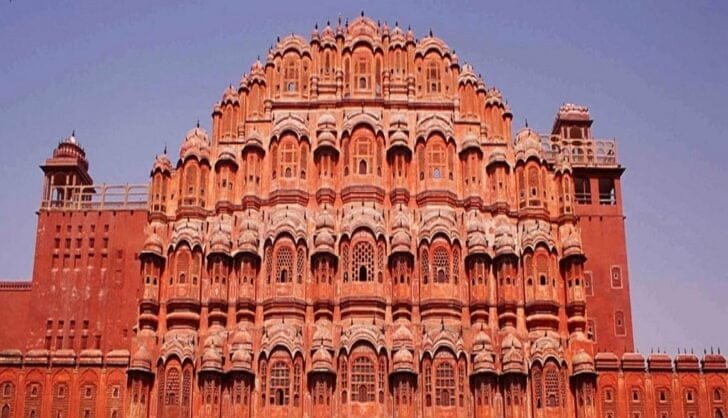 HAVELIS AND MAHALS OF RAJASTHAN | RAS EXAM
Published on May 11, 2021 by Just Prep Raj |
Last Updated on June 8, 2023 by Just Prep Raj
          Haveli of Nathmal 
Two brothers Lalu and Hathi of Jaisalmer built this Haveli.
The door of the haveli is decorated with elephant made of yellow stone similar to that of Eravat of India.
It was built around 1884-85 A.D.
It has big spacious balconies and beautiful ornamentation.
            Patwon ki Haveli
In 18th century, a businessman Gumanchand Bafna built it in Jaisalmer.
The architecture is the amalgamation of Indian, Sindh, Mughal and Jewish style.
It is worldwide known for its beautiful work of stone mesh and etchings on the entrance, rooms and edge.
Haveli has been constructed on 8-10 ft. high raised platform of.
It is seven floors building with a basement and 6 upper buildings.
Roofs are made of wooden material.
The front view of the building has windows, balcony and fitted railings. There are works of artefacts on them.
Embellishment with ivory and golden work on the walls.
Paintings of flora and fauna gives the striking look.
            Bagore Haveli 
This Haveli was built by Thakur Amarchand Badwa on the Bank of the Pichchola lake in Udaipur.
In 1986, Government turned it into Western Region Cultural Centre.
It has total 138 numbers of room.
There is a world's largest turban kept inside which is a center of attraction.
           Haveli of Salim Singh
Salim Singh was a Deewan of Jaisalmer who build this Haveli.
The building has 9 floors of wood, out of which 7 are made of stones, eighth one is known as Rangmahal and ninth floor is called as Sheeshmahal.
It is also known as Roopmahal and Kamal Mahal.
The top floor is 80 ft. high and called as Moti Mahal.
There are 48 jharokhe and windows decked with various artefacts.
           Room of Maliji
According to people, it was built by Malchand Kothari 100 years ago in Churu.
Malchand was the grandson of Seth Hazarimal Kothari and son of Seth Shobhachand Kothari.
Therefore, it is called Room of Maliji.
            Pushp Haveli
It is known as Pushp Haveli because it was built within Pushp Nakshtra.
The builder was a Pushkarna Brahmin- Raghunathmal Joshi aka Bhurji.
He worked as Kamdar of Jaswant Singh II.
            Jawaharkhana
It is 50 ft. high above the ground level.
Red stones have been used to build its walls.
It was constructed by ruler Jaswant Singh.
The pillars are made of chhitar stone.
            Jaswantthada
King Sardar Singh made this in 1906 in remembrance of his father Jaswant Singh II.
It is situated on the foothills of the Mehrangarh.
White stones were used for the construction.
Pictures of all the ancestral kings are placed on the walls of the building.
            Jubilee Court 
It was built by Pratap Singh, Prime Minister of Jaswant Singh II.
It is located near Rai ka Bagh, Jodhpur.
It took 10 years to construct and was dedicated to Queen Victoria on her completion of 25 years of rule.
It was named as Jubilee Court.
It has three poles inside. The middle pole has huge picture of Pratap Singh.
            Rampuria Haveli 
A haveli built 100 years back in Bikaner.
It was made of red stones by Silawat and Usta artists of Bikaner.
It has three floors.
The artwork is a mixture of Mughal, Hindu and European designs.
            Bijolai Ka Mahal
It is situated in between Kaylana mounatins in Jodhpur.
It was made by King Takht Singh.
There is a big hall between second and third floor which is covered with forty pillars from all the sides.
There are images of ring-shaped in maroon and blue colors on the roof.
            Soorsagar ka Mahal 
Sur Singh built the Mahal in Jodhpur.
A sarovar was built both the sides of the Palace.
There are two palaces facing each other. One for ladies and other for gents.
A museum full of artefacts, was opened in the palace in 1909.
A library of rare books collection was opened by Vishveshwarnath Reu.
            Other Important Mahals 
Bharatpur (City of Deeg) is renowned for its palaces and fountains.
Palaces with beautiful Mughal architecture are – Rang Mahal, Karn Mahal of Bikaner, Sheesh Mahal of Amer, Phool Mahal of Jodhpur, Jagmandir and Jagniwas of Udaipur.
Hexagonal structure Chattris are Gaitore of Jaipur, Panchkund and Jawantthada of Jodhpur, Chattrivilas in Kota, Devkund in Bikaner and Bada Bagh in Jaisalmer.