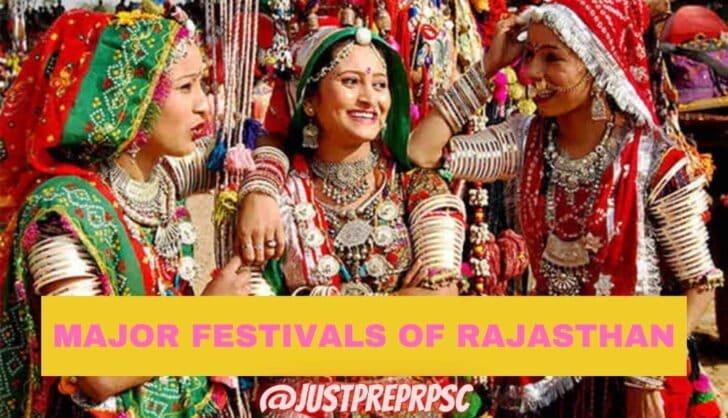 MAJOR FESTIVALS OF RAJASTHAN | RAS | REET | PATWAR
Published on February 24, 2022 by Abhishek Shekhawat |
Last Updated on March 15, 2023 by Abhishek Shekhawat
INTRODUCTION
Rajasthan, a land of colorful culture celebrates various festivals throughout the year. These festivals signify not only the religious sentiments of the people but also their love for environment, way of living, respect and love towards heritage and traditions.
GANGAUR
The festival is dedicated to Lord Shiva and his wife Parvati. They are represented by Isar and Gaur.
It is celebrated 15 days after Holi.
Gangaur is worshipped by married women to pray for their husbands' immortal life while unmarried girls seek for handsome and worthy husbands for them.
They apply beautiful mehndi designs on their hands and feet.
Ghoomar dance is popular among ladies. They also perform 'Ujina'.
The Gangaur procession held in Jaipur attracts visitors around the world.
People exchange and eat Ghewar (a sweet) with friends and family.
TEEJ
The festival is celebrated twice in a year.
Choti Teej falls on Shravan Shukla Tritiya while Badi Teej is observed on Bhadra Shukla Tritya.
Ladies wear Leheriya print clothes and swing, dance and sing.
It is popular among newly married and unmarried girls.
The newly wed lady visits his father's place to celebrate Teej.
Sinjara is a ritual performed a day before Teej.
People eat Sattu made of chickpea and rice flour on this day.
HOLI
The festival is regarded as most important one among Hindus.
It is based upon mythological story of Bhakta Prahalad.
People celebrate Holi on Falguna Poornima throughout the country.
Next day is observed as Dhulandi when people play with colors.
Females of cobbler caste play with their brother-in-law in Pali Bazar of Beawar.
Lathamar Holi of Shri Mahavirji, Patthar mar Holi in Barmer and Bhagoria in tribal areas is popular way of celebrating.
DIWALI
It is a five-day long festival.
Goddess Lakshmi is worshipped at night and welcomed by lighting 'diya' with kauri in it. It is also known as Yamdeep.
It is observed on Kartik Amavasya in Rajasthan as well as across the country.
It is also auspicious because Swami Saraswati Dayanand founded Aryan Samaj and Jain tirthankara Lord Mahavira attained 'Nirvana' on this day.
DUSSEHERA
It is observed as a victory of Lord Rama over Ravana.
It is majorly a Kshatriya festival as Rajput rulers used to worship Khejari and Shami trees.
To celebrate it, a chariot procession is held in Jodhpur and a fair is organized in Kota.
GANESH CHATURTHI
It is celebrated as Lord Ganesha's birthday.
People buy vehicles and property on is auspicious day.
Teacher and students worsip Lord Ganesha.
Sinajara, an event is observed two days before the Chaturthi when gifts are given to young boys.
A fair is organized in Ganesh Temple in Sawai Madhopur.
AKSHAYA TRITYA
It is observed on Vaishakh Shukla Tritiya.
It is popularly known as Akha Teej in Rajasthan.
Farmers in the state worship seven grains, bull and plough.
Many weddings take place on this day as it is an 'Aboojh Sawan'.
Earlier many child marriages were held on this day.
SHEETLASTHAMI
On Chaitra Shukla Ashtami, Sheetla Mata is worshipped.
People prepare food one day ahead and eat cold food on Sheetlashtami.
Sheetla Mata is regarded as deity of the Chechak (small pox) and Bodari.
Another festival called Ghudla is celebrated on the same day in Marwar.
GOVARDHAN
It is celebrated on the next day of Diwali festival.
Annakoot, a mix vegetable is prepared and offered to deities.
Govardhan made of cow dung and is worshipped by the couples.
The day is dedicated to Lord Krishna.
RAKSHA BANDHAN
A festival of siblings celebrated on te Shravana Shukla Tritiya.
Sister ties rakhi on brother's wrist and in return he promises to protect her throughout her life.
The festival first began in historical times when Rani Karnawati of Rajasthan send rakhi to Mughal Emperor Humayun in order to seek protection for his kingdom as her husband had died in a war.
MAKAR SANKRANTI
When sun goes to Uttrayan on every 14th January of the year, it is celebrated.
Since this day, night starts becoming shorter and day becomes longer.
People worship Sun and do charity on the occasion.
Jaipur is famous for its Kite festival on Makar Sankranti.
Til and Jaggery Ladoo are made in every household.
TULSI POOJAN
Tulsi is regarded as wife of Lord Krishna.
On this day, they are worshipped as couple.
For whole Kartik month, married and unmarried females light a lamp of Ghee and oil for 15 days respectively.
OTHER FESTIVALS
In Maangliavas of Ajmer, Kalp Vraksh (tree) is worshipped on this day.
It falls on the Hariyali Amavasya.
Bachchabaras – Female's worship cow on this day and pray for their child. A mixed grain of Bajra, Moth, gram etc is provided.
On Uchchat, unmarried females observe afast without food and water and intakes only after watching moon.
Karwar Chauth, a famous festival for women in North India. When females observe a fast for better and long life of their husbands. It is celebrated on Kartik Krishna Chauth.
Sindhi people worship Jhulelal on the Bado Shukla Paksh Chaudas as he became invisible then.
Hindola festival is celebrated in Ranga Ji's Pushkar temple for one month i.e., Choti Teej to Badi Teej in the month of Shravana.