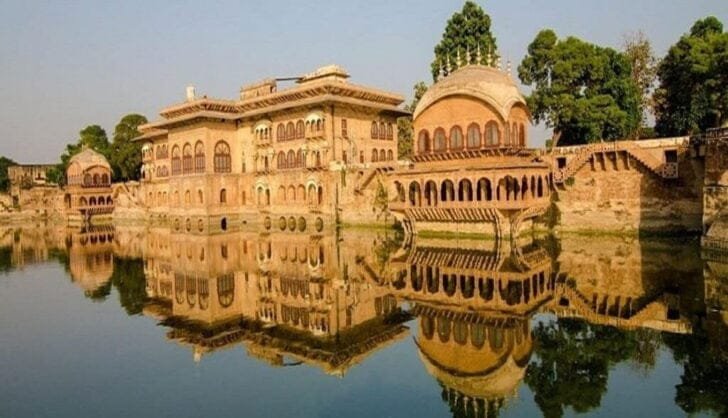 MAJOR PONDS IN RAJASTHAN | RAS EXAM
Published on May 11, 2021 by Just Prep Raj |
Last Updated on June 8, 2023 by Just Prep Raj
          Tharda
In Marwar region, there is an area between land and maand.
It is called as Tharda because this place was rules by Thardia Rajputs.
           Koriye
            Dhandi
Smaller than a pond in size, stores fresh rainwater.
A major source for animals and birds to drink water.
In Hindi, it is called as Pokhar.
            Bambi
The deepest level of the ground inside a pond which connects it to the crust of the earth.
People worship it and sow a plant called paiya.
It is believed that by doing so Sarpdev (Snake) do not harm people who use that pond.
            Saran
It is made for bulls and camels to walk around the well to draw water.
             Seer
A path through which underground water flows.
            Seja
It is flowing underground water which is digged and water is directed into wells through seer.
            Gadiasar Pond
It is located in Gadiasar on Pokhran- Badmer route.
Sonargarh fort of Jaisalmer is also nearby.
It was built by Maharaval Jaishal in 1156 A.D.
It is named after Maharaval Gadisar who was attacked by Jasod's Bhatis. They had slashed his head off.
There are beautiful ghats built around it. The entrance gate is beautifully decorated.
At the back side of the temple, there are temples, Dharamshalas, Padsa, small gardens have been constructed.
A Jalmahal and some Chhatries (ciborium) is built inside the pond.
            Baiji Ro Talab
Wife of Maharaja Jagat Singh of Jaipur, Sirekanwar Baiji built this pond in Jodhpur near the kot of Jalori darwaza.
To bring water from far, canals were digged.
Sireshwar Mahadevwas built on her name at the foothill.
A huge temple of Sirebaiji was built on the banks of the Pushkarraj.
            Shivbadi Talab
It is situated in Bikaner.
Dungar Singh, son of the ruler Lal Singh, built this talab in memory of his father.
            Baap Talab
This pond is situated in a village called 'Baap' on the route of Jaisalmer and Bikaner.
It was earlier known as Bhaap because of the vapour/steam is formed over the pond.
This pond remains full of water throughout the year.
Megha, a shepherd is believed to be the constructor of it.
Two Chhatris, in remembrance of him and his wife has been built on the pal of the pond.
            Lakholav Talab
In Mundwa village of the Nagore district, it is located.
It is considered to be 900 years old.
There are seven ghats in the pond.
Its dimensions are – 40-60 ft. deep, 1 km long and half km wide.
There are temples of Giriraj and Barahdari and a garden of Vyasji near this pond.
            Sansolav Talab
Samoji, grandson of Saloji Rathi built this pond at the Nathusar Gate in Bikaner.
A chhatri in the middle of the pond and small chhatris and a temple built around it intensify the beauty of the talab.
            Swarupsagar Talab
Queen of Maldev – Jhaliji Swarupde got this pond constructed in Jodhpur.
It is also known as Bahuji ka Talab.