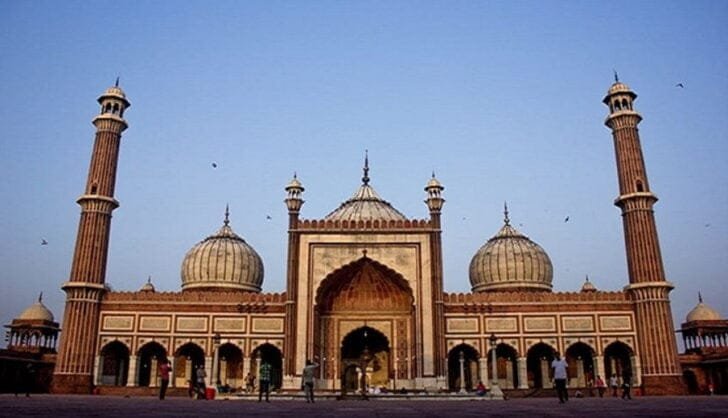 MOSQUES AND TOMBS IN RAJASTHAN | RAS EXAM
Published on May 11, 2021 by Just Prep Raj |
Last Updated on June 8, 2023 by Just Prep Raj
         Dargah of Khwaja Moinuddin Chishti 
World famous dargah in the city of Ajmer.
Mohammad Ghouri brought him along to India in 1191 and settled him in Ajmer during the reign of Prithviraj Chauhan.
He was given a title of Sultan-e- Hind by Mohammad Ghouri.
Khwaja had a good knowledge of Braj language as he composed literature in it.
A cemented tomb was constructed by Gayasuddin Mohammad Khilji in 1464 and it is known as Mazar-e-Mubarak.
He also built a Buland Darwaza in Hijri Samvat 700. It is considered as oldest building of the place.
Every year a week before Urs of Khwaja Sahab, there is a tradition of hoisting a flag on Bulanad Darwaza by Gauri family of Bhilwara.
A marble made mazaar was built by Gayasuddin Khilji in 1537.
Shahajahan's daughter Jahanara build Begami Dala outside the door.
Swai Jai Singh built silver kithara (railing) around tomb.
A golden crown was encrusted by Nawab of Raipur on the main tomb.
Two cauldrons were gifted by Akbar and Jahangir respectively.
Nizam Mir Usman Ali Khan of Hyderabad build main gate of the Dargah known as Nizam Gate in 1921.
Qawwalis are performed in the Mahfil Khana which was built by another Nawab of Hyderabad, Bashiruddaula Sir Asman Shah.
Shahjahan built a marble masjid called as Juma Masjid.
It is the second highest holy place of Muslims after Mecca. Therefore, known as Mecca of India.
           Dargah of Malik Shah
Saint Malik Shah dargah is situated in Jalore.
It is also a symbol of unity, faith and respect among Muslims and Hindu community. Nath sect of Hindus offers Chadar on the eve of the Urs every year.
           Dargah of Hazarat Sayyad Khawaja Fakhruddin
He was the eldest son of Khwaja Moinuddin.
His dargah is located in Sarwad tehsil of Ajmer.
            Adhai Din ka Jhopda 
Originally it was built by Bisaldav Chauhan IV, ruler of the Ajmer region in 1153.
It used to be a Sanskrit Mahavidhyalaya. There was a Vishnu temple inside the courtyard.
Qutubuddin Aibak destroyed it and replaced it with a mosque in 1194.
It is called as Adhai din ka Jhopda because every year an occasion of Urs of Adhai Din of Punjab Shah is celebrated here.
            Dargah of Hazrat Shakkar Pir Baba 
It is sited in Jhunjhunu's Narhad village.
Urs is celebrated on Janamashtmi every year.
It has three doors – Bulanad Darwaza, Baseti Darwaza, and Bagali Darwaza.
It is the largest dargah in the Rajasthan. Pir Baba is fondly called by the name of Bangad ke Dhani.
His disciple was Sheikh Salim Chishti, whose dargah is situated in Fatehpur Sikri (Agra).
            Sayyad Fakhruddin ki Dargah
It is situated in Galiyakot village in the Dungarpur district.
Daudi Bohra community of Muslims regard it as main holy place for worship in the state.
            Allaudin ka Makbara 
This dargah was built by Allaudin Khilji himself in 1310 A.D.
It is located on the foothills of the Chittorgarh Fort.
Khilji had been given a title of Ishwar ki Chahya and Saviour of the World by his followers and this was engraved on the tomb in Persian language.
            Dargah of Meeran Sahab 
It was built on the top of the Taragarh Fort of Ajmer.
Meeran Sahab was the first Governor-General of Taragarh.
His real name was Mir Sayyed Hussain Khingswar.
Inside the dargah, there is grave of horse which is one of its kind. People worship it and offer grams to get their wishes fulfilled.
            Kakaji ki Dargah
This dargah is also called as Kanthal ka Tajmahal.
It is located in Pratapgarh district.
            Topkhana Masjid
It is the oldest constructed mosque in Rajasthan.
It was a school named as Saraswati Kantha Bharan, built by Raja Bhoj of Parmar Dynasty in Jalore.
Allaudin Khilji changed it into a mosque after winning over Jalore in 1311-1312 A.D.
It was turned into an artillery to store arm and ammunition.
            Jama Masjid (Bharatpur)
It took around 90 years to complete.
The construction began during reign of Maharaj Balwant Singh.
The design of the Masjid is inspired by Jama Masjid of Delhi.
The platform has been raised 10ft above the ground level.
            Jama Masjid
It is situated in Shahbad of Baran
It was constructed during the reign of Mughal emperor Aurangzeb by his soldier Maqbul.