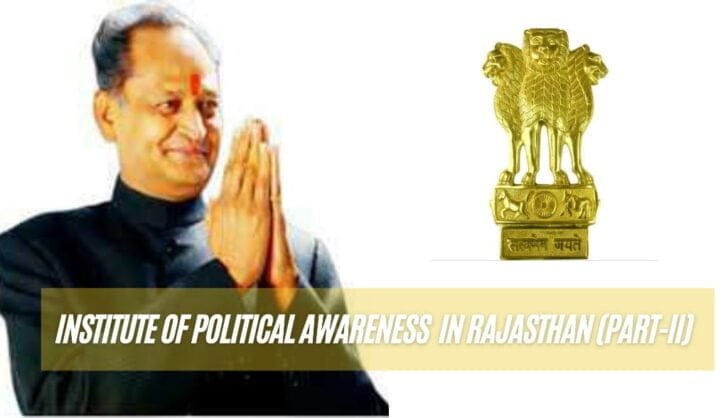 INSTITUTE OF POLITICAL AWARENESS IN RAJASTHAN PART-II | RAS EXAM
Published on September 28, 2021 by Just Prep Raj |
Last Updated on March 15, 2023 by Just Prep Raj
DESH HITESHINI SABHA
Maharaja Sajjan Singh of Udaipur founded the organization on 2 July 1877.
The main objective was to solve marital discord in the Hindu society.
The group members opposed the limitless expenditure on lavish marriages among Rajputs.
They also emphasized on the practice of monogamy in Rajputs, Brahmins and Mahajans.
According to the tradition, Rajputs were allowed to marry thrice up to the age of 45 while Mahajans and Brahmins could marry twice till the age of 40, if they don't bear child from the first wife.
It also sorted out matters of divorce and compensation.
PRATAP SABHA 
The Sabha was formed in remembrance of Maharana Pratap in 1915 at Udaipur.
Balwant Singh Mehta leaded the organization.
The aim of the organization was to develop a sense of unity, patriotism, respect and freedom among natives.
They used to publish and distribute books and articles to literate people about the struggle of independence.
Pratap Sabha held a public meeting in Udaipur to invite and honour Jamanalal Bajaj. Peasant movement of Bijolia also got recognition from the meeting.
In fear of spread of national awareness propaganda in Mewar, British government banned celebration of Pratap Jayanti in 1938.
MAHILA MANDAL
It was established in 1935 at Udaipur by Dayashankar Shrotriya.
It aimed at educating women to awaken the sense of nationalism among them.
The condition to get admission in the organization was to wear indigenous clothes and use spinning wheel.
Training camps were conducted in rural areas to spread nationalism.
Kamala Shrotriya supported his husband in the operation of the organization.
MARWAR LOK PARISHAD
The formation took place in Jodhpur in 1939 under the influence of Jainarayan Vyas.
When Vyas was expelled from the state, it worked under the presidentship of Ranchhoddas Gattani.
Other important activists were Achaleshwar Prasad Sharma, Chagganraj Chaupsaniwala, Mathuradas Mathur and Abhaymal Jain.
The organization rooted out into several Praganas of Marwar.
The objective of the council was to establish a responsible government under Maharaja.
A huge demonstration took place in 1940 which led to ban of the organization and jail of all the renowned activists.
Later, an act was implemented which made government accept and register the group under Marwar Public Societies.
RAJPUTANA DESHI RAJYA PARISHAD
It was established in 1928 with the joint efforts of Vijay Singh Pathik, Kesari Singh Barhath, Ramnarayan Chaudhary, and Damodar Lal Rathi.
Amritlal Seth presided over the first meeting held in Ajmer in 1928.
The council called for the civil independence and criticised the domination policy of the government.
It paved the way for major changes in official rules and united people for the collective aim of the civil independence.
RAJPUTANA MADHYA BHARAT SABHA
The formation took place during Congress session of 1919 in Marwari school in Delhi.
It happened under the leadership of Jamanalal Bajaj.
The head-quarter was placed in Ajmer.
Other members were Chandkaran, Sharda, Kesari Singh Barhath, Arjunlal Sethi, Vijay Singh Pathik, Ganesh Shankar Vidhyarthi and Swami Narsingh Dev.
The purpose was to bring Congress's attention towards the plight of common people, movement against the rulers and Jagirdars, upliftment of lower castes, and inclusion of non-resident Rajasthanis in activities.
It also criticised the atrocities on peasants and political activists participating in movements at Pisangan, Khetri, Bijolia, Bundi, Bisau and Bikaner.
RAJASTHAN VIDYAPEETH
Janardan Rai Nagar founded the Rajasthan Vidyapeeth in 1931 in Udaipur.
The main idea behind the foundation was to instil patriotism among young students through Hindi Language.
It was branched into many sub-organizations like Sharamjivi Vidyalaya by Rameshchandra Rai (1939), Lok Shikshan Vibhag (1939), Janpad Vibhag (1941), Sahitya Sansthan (1941), and Maharana Kumbha Kala Kendra (1941).
It provided knowledge and training to students in the field of education.
It has now turned into a deemed university known as Janardan Rai Nagar Vidyapeeth.
RAJASTHAN HARIJAN SEWA SANGH
It was established under the leadership of Ghanshyam Das Birla.
Harvilas Sharda was appointed as head of Rajputana branch of Harijan Sewa Sangh.
People from higher castes contributed for the construction of new schools.
Harijan people were taught spinning of yarn and self-dependence in Sewa Ashram in Nareli village at Ajmer. It was established by Manikyalal Verma.
It provided general and political education to Harijans.
VIDYA PRACHARINI SABHA
This Sabha was formed by Sadhu Sitaram Das in Bijolia.
The responsibility to run the school was given to Vijay Singh Pathik in 1915.
Education was imparted here with the focus on building strong character, Evening classes were held for elders.
It played crucial role in Bijolia peasant movement.
SARVHITKARAINI SABHA
Swami Gopal Das collaborated with Pandit Kanhiyalal and Pandit Shriram Master to start this organization in 1913-1914 in Churu.
It focused on educating poor people and bring social reforms.
Another school 'Sarvhitkarani Putri Pathshala' was build to educate women.
Harijans received education and training for self-help in Kabir Pathshala.
The Sabha demanded the use of Hindi language in government courts.
It was greatly under the influence of Arya Samaj ideology.
SHIKSHA KUTIR (Vanasthali Vidyapeeth)
It was built in the memory of Heeralal Shashtri's daughter Shantabai in 1935.
It was managed by Ratan Shashtri and Prakashchandra Goyal.
Knowledge of national integration was imparted along with general education.
Female students of Vanasthali served as National Service Cadets in the first session of Jaipur Prajamandal in 1938.
Eventually, it became a huge centre of education at national level.
Five principles of the education of the institute were moral, physical, practical, artistic and mental.
Gandhi ji also visited the Vidyapeeth.
The institute still exists where ample of courses are offered to female students.