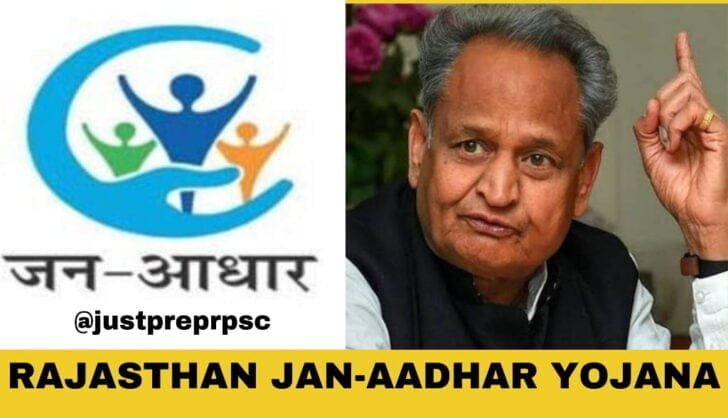 RAJASTHAN JAN-AADHAR YOJANA | RAS EXAM
Published on November 8, 2021 by Just Prep Raj |
Last Updated on March 15, 2023 by Just Prep Raj
INTRODUCTION
The Chief Minister of the state Ashok Gehlot announced in the 2019-20 budget speech to establish 'Rajasthan Jan-Aadhar Yojana' to develop a system of 'one number, one card, and one identity'. A Jan-Aadhar Authority will be constituted for independent functioning of the scheme. It was announced on 18th December,2019.
OBJECTIVES
The scheme was announced on 18th December,2019 with following objectives:
To organize database of families residing in the state according to the demography and socio-economy.
To provide the families of the state with Proof of Identity and Proof of Address under 'one number, one card and one identity'.
To use Jan-Aadhar or Aadhar card for verification of the beneficiaries and direct transfer the subsidiary; cash (Bank account) or non-cash benefits (at door steps).
To deliver e-commerce and insurance related facilities to residents, especially in rural areas, at door-step.
To bring the state-wide network of e-Mitra project under this authority and its jurisdiction for better functioning and responsibility.
To develop and boost the electronic and technical infrastructure in the state.
To encourage and empower women in the society and bring in the financial inclusion.
To determine the eligibility of the residents who receives benefits and service of the public welfare schemes.
HIGHLIGHTS OF THE SCHEME
As per the guidelines, all the resident families in the state are eligible under the scheme.
All the registered families to get a 10-digit unique family ID and 11-digit unique ID to individual including the Head of the family.
Jan Aadhar cards are printed and distributed to the beneficiary families.
An Administrative Report based on benefits transferred till now has been uploaded on Jan Soochna portal for Social Audit.
Benefits of 102 schemes such as PDS, MGNREGA, SSP, Ayushman Bharat, Mahatma Gandhi Rajasthan Swasthya Bima Yojana, JSY etc., are being transferred through Jan-Aadhar platform.
On 9th May,2020, the central government also recognized the Jan-Aadhar card as proof of identity and address document.
On 7th May, 2020, the government announced to inject Jan-Aadhaar Authority and its Executive Committee in the Constitution of Rajasthan.
APPARATUS FOR THE IMPLEMENTATION
The administration has established various set up for implementation of the scheme. They are as follows:
State Level- Planning Department is the central administrative department where Director-cum-Joint Secretary of Directorate of Economics and Statistics (DES) is appointed as Budget Controlling Authority. Implementing Agency is Rajasthan Info Services Limited (RISL)
District Level- District Collector is the District Jan-Aadhaar Yojana Officer, the DD/AD, Economics & Statistics is the Additional District Jan-Aadhaar Yojana
Officer and ACP (DD) of DoIT&C as Additional District Jan-Aadhaar Yojana Officer
(Technical)
Block Level – SDM is the Block Jan-Aadhaar Yojana Officer, the BDO/BSO is the Additional Block Jan-Aadhaar Yojana Officer Programmer of DoIT&C as Additional Block Jan – Aadhar Yojana Officer (Technical)