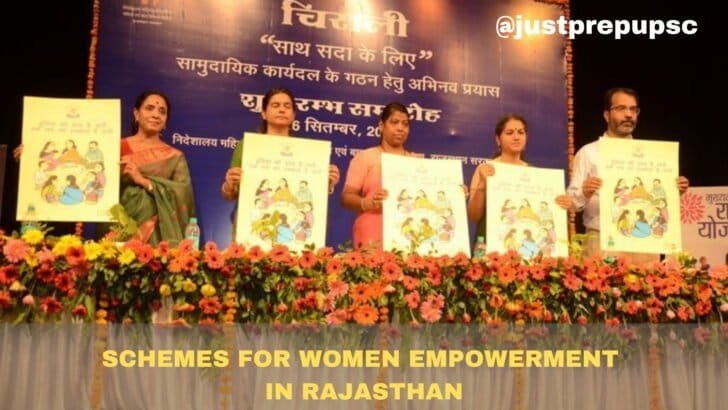 SCHEMES FOR WOMEN EMPOWERMENT IN RAJASTHAN | RAS EXAM
Published on November 11, 2021 by Just Prep Raj |
Last Updated on March 15, 2023 by Just Prep Raj
INTRODUCTION
Women empowerment is the foundation of a progressing society as they constitute nearly half of the population. A social system is incomplete without their development. They deserve equal, fair and active participation just like men. It is the moral duty of a society and government to provide women with basic rights, create enabling environment and frame policies to bring them forward. They should be allowed them to make decision at all levels and perform different roles defeating gender biasness.Let's look at following schemes launched by the Rajasthan government to encourage women power in the state.
WOMEN DEVELOPMENT PROGRAMME
The govt has honoured inspiring women workers with the title of 'Sathins' who work as medium of link between women and the govt.
They conduct awareness programmes regarding fundamental rights of women, various policies and schemes launched by the govt at grassroot level.
Satins aim to eradicate evil practices and myths against women within society and help them to battle the injustice.
It also provides helping hand to victims of sexual harassment and domestic violence.
There are currently 8,648 Sathins working in the Rajasthan.
One Sathin is employed at every Gram Panchayat and selected by the Gram Sabha.
During Covid19 pandemic, these Sathins coordinated with Anganwadi workers to implement govt relief programmes.
SAMUHIK VIVAH YOJANA (GRANT-IN-AID FOR COMMUNITY MARRIAGES)
The concept of Community Marriages was introduced long back in ancient times to discourage the practice of dowry and lessen the financial burden of families for individual marriages.
Under this initiative of the state govt, per couple is sanctioned Rs. 18,000. Out of this amount Rs. 3,000 is given to organization for arrangements and Rs. 15,000 is given to the bride.
Total 19,092 couples have been benefitted till year 2021.
SCHEMES FOR ADOLESCENT GIRLS
NON-NUTRITION COMPONENT
The target population of the scheme is girls aged between 11-14 years.
Non-nutrition component of the scheme covers Iron Folic Acid (IFA) supplementation, Health check-up and Referral services, Nutrition & Health Education, Life Skill Education and Counselling/Guidance on accessing public services.
It encourages the girl students who have dropped school, to join it back or pursue skill training.
The beneficiaries in year 2019-20 were around 49,631 which has slumped due to pandemic situation. However, the result is relatively good and indicate progress.
MUKHYA MANTRI RAJSHREE YOJANA
The objective of the scheme is to develop better view and attitude towards girl child in the society. It aims to improve their health and education too.
This will boost gender equality and empower women.
According to this scheme, every girl child born after 1St June,2016 will receive a financial assistance of Rs. 50,000.
The amount is given in 6 instalments to the parents or guardian of the eligible girl child.
The beneficiaries of the first instalments include 20.89 lakh girls while of the second instalments include 13.96 lakh girls till now.
A budget of Rs. 250 crores have been allocated in year 2020-21, of which Rs. 150 crores have been incurred till December 2020.
BETI BACHAO, BETI PADHAO (BBBP) SCHEME
It is one of the flagship and convergent programmes of the Government of India to focus upon child sex ratio and related issues.
It aims to prevent gender biased sex selection, ensure survival and protection of girl child and promote their education.
To spread awareness among people, various activities like meetings, trainings workshops, cultural events and media activities are conducted.
The department also uses digital platforms to conduct these activities effectively.
The budget is divided into state and central governments shares.
In financial year 2020-21, the state has provisioned Rs. 25.60 lakhs while an amount of Rs. 724.77 lakhs have been given by the Government of India.
WOMEN SAFETY AND PROTETCION
A special women cell has been created by the government to monitor the implementation of the following programmes.
MAHILA SURAKSHA EVAM SALAH KENDRA (MSSK)
The centres are built to implement following Acts for women protection
Protection of Women from Domestic Violence Act,2005
Sexual Harassment of Women at Workplace (Prevention, Prohibition and Redressal) Act, 2013
Rajasthan Prevention of Witch Hunting Act, 2015 and Rules, 2016
These centres are known as the following:
Aparajita/Sakshi One Stop Centre for women
Zila Mahila Sahayta Samiti
24 hours Women Helpline
A number of 78,950 cases have been registered at these 40 MSSKs since commencement of the scheme, of which 68,741 cases have been resolved till December,2020.
GENDER CELL
The constitution of the Gender Cell ensures consideration of gender by the government while preparing the budget. It reviews budgets of various departments from this perspective. It organizes various orientation programmes on Gender Responsive Budgeting in all districts to sensitize people working towards gender- based issues.
AMRITA HAAT
The Directorate of Women Empowerment facilitate Women Self Help Groups to display their manufactured/value added products in the exhibition.
Amrita Haat is one such medium to empower women socially and economically.
Apart from this, there are other opportunities like India International Trade Fair (IITF), Shilp Gram Utsav etc., where women participate.
In 2020-21 Annual plan, a budget of Rs. 127.60 lakh was outlaid by the government.
INDIRA MAHILA SHAKTI NIDHI (IM SHAKTI)
It is an umbrella scheme introduced by the Rajasthan Government on 18th December,2019.
It focuses on all round development of women by imparting various skill training.
The govt has allocated a budget of Res. 1,000 crore for the implementation.
Following are the objectives of the scheme:
To provide financial aid to women for industrial development.
To boost the innovative research through financial aid.
To impart skill development training to girls and women.
To create awareness for education.
To support in the rehabilitation of the women victims.
In order to achieve the above goals, following measures have been taken by the Directorate of Women Empowerment in form of various schemes. They are:
Indira Mahila Shakti Udhyam Protsahan Yojana
Indira Mahila Shakti Prashikshan Evam Kaushal Samvardhan Yojana
Free RS-CIT training to girls/women
Free RS-CFA training to women and girls
Kaushal Samarthya Yojana
Shiksha Setu Yojana
OTHER SCHEMES
MAHILA SHAKTI PROGRAMME KENDRA (MSK)DHAN LAKSHMI MAHILA SAMRIDHI KENDRAALLOTMENT OF FAIR PRICE SHOPS TO WSHGsPREVENTION OF CHILD MARRIAGE