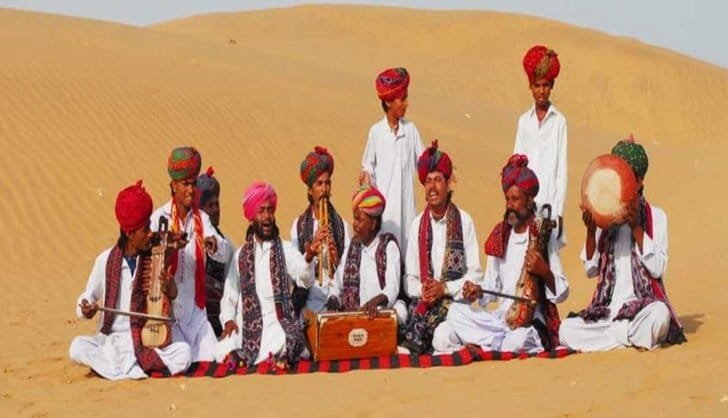 DIALECTS OF RAJASTHAN | RAS EXAM
Published on May 21, 2021 by Just Prep Raj |
Last Updated on June 8, 2023 by Just Prep Raj
INTRODUCTION:
The geographical region covered under Rajasthan is very wide. It is the result of consolidation of various princely states. Thus, people of the state speak different dialects such as Marwari, Mewari, Mewati, Hadauti etc. But Marwari is considered to be the standard language among all which is popularly known as Rajasthani. In 1908, George Abraham Grierson was first to mention the name 'Rajasthani' as the standard language and other as dialects in his book 'Linguistic Survey of India'. The language belongs to Indo-Aryan family, originated from Gurjari Apabharansha. It is believed that this language came into existence around 9th century but literary works started in 13th century. Ramkaran Aasopa wrote first grammar of Marwari language. Other names for Rajasthani language are Marubhasha, Marubhoom Bhasha, Marudeshiya Bhasha, Maruvaani.  In a story collection book 'Kuvalyamala' written by Udyotan Suri in Vikram Samvat 835, there is mention of 18 local languages used those days as Marudesh ki Bhasha. There are 73 dialects Different developmental stages of Rajasthani language are:
Gurjari Aapbhransha – 11th to 13th century
Ancient Rajasthani – 13th to 16th century
Medieval Rajasthani – 16th to 18th century
Modern Rajasthani – 18th onwards
Two types of writing styles are:
Dingal – A literary style of writing prose and poetry in Marwari language. It is presented same in written and spoken form. Kushallabh's 'Pingali Shiromani', Giridhar Charan's 'Sagat Singh Raso' dedicated to Maharana Pratap's younger brother Shakti Singh has been written in Dingal language. It was also used in composition of Suryamal Misharan and Baankidas.
Pingal – It was used for writing poem only by Bhaats. It is an amalgamation of Brij Bhasha and Rajasthani languages.
DIALECTS:
MARWARI
It is widely spoken dialect in Rajasthan which covers western areas like Jodhpur, Bikaner, Jaisalmer, Nagaur, Shekhawati, Sirohi, Sikar and extends to parts of Sindh and Punjab. It is accepted as standard form.
Sub-dialects of this dialect are Thali, Maheshwari, Kheradi, Nagauri, Godwadi, Oswali, Bikaneri, Dhatki, Devdabari.
Abul Fazal stated in his work 'Ain-e-Akbari' in 17th century that Marwari was one of the important languages of India those days.
Ra, Ri, Ro are suffixes used in the language.
न is written as ण and ल as ळ.
It is also called as Maru Bhasha.
It is written in Devanagri script and shares 50-65% intelligibility with Hindi.
  MEWARI
It is the second most spoken dialect.
Spoken in Mewar region which consists of Bhilwara, Udaipur, Chittorgarh, Banswara and Dungarpur.
Its usage during earlier times can be witnessed in the Kirti Stambh where reference of Maharana Kumbha's four dramas is given.
It can be distinguished from Marwari in terms of Verb forms.
ऐ is written as ए and औ as ओ.
  DHUNDHARI
Dhund means mound.
It is predominantly spoken in north-eastern area of Rajasthan i.e Jaipur, Lava, Kishangarh, Dausa, Tonk and a part of Ajmer.
Some of its sub-dialects are Torawati, Kathori, Rajawati, Kishangarhi, Shahpuri, Ajmeri, Sipadi, Naagarchal, Chaurasi.
It can be found in the compositions of Dadudayal and his followers.
Acharyakalpa Pt. Todarmalji wrote Jain philosophy books Moksha and Marga Prakashak in this dialect.
New Testament was translated by Serampore missionaries in 1815.
It shares 75-80% lexical similarity with Hindi.
छै, छु, छा, छो, छी are used as helping verbs.
Pronouns used are काइं, कोडै, जद, कद.
  HADAUTI
Hadauti region includes Kota, Bundi, Jhalawar districts.
It was named Hadauti for it was ruled by Hada Rajputs.
It is also spoken in some parts of Udaipur and Gwalior.
Composition of Surya Mala Mishran is written in this dialect.
Present tense is denoted by छै while छी, छो is used for past tense.
  MEWATI
It is spoken in Matasya Janpad of Mahabharata time i.e., districts of northern Rajasthan – Bharatpur, Alwar, Dholpur and Karauli and Nau district of Haryana.
Its major sub-dialects are Rathi, Maheda and Kather.
Works of Charandas, Sahajo Bai and Dayabai is found in this dialect.
लू Is used as objective case and हा, हो, ही for past tense.
  BAGADI
It is spoken in the southern region of the state known as Bagar.
Bagadi is the language of people residing in Dungarpur and Banswara.
It is highly influenced by Gujarati language because the region touches Gujarat border.
Also known as dialect of Bheels.
Characteristic of the language is, च, छ are pronounced as स
  MALAWI
Malwa is part of Madhya Pradesh.
Jhalawar, Kota and a part of Pratapgarh being near to Malwa, Malawi dialect is spoken here.
Ratlami, Nimari, Umathwari, Saundhwari are its sub varieties.
ए, और is pronounced as ओ in Malawi.
Rangdi is another form which is the result of blending of Marwari and Malawi.
  AHIRWATI
Spoken in Behror, Mandawar and Kotputli. The region is known as Rath.
These are located at the border of Rajasthan and Haryana border.
It is also known as Rathi
Jodhraj, Hameer Raso, Bheem Vilas epics are written in this dialect.
Khayals of Ali Bakshi are also found.
न is spoken as ण in this dialect.
  BRAJ
It is spoken in the area adjacent to Delhi and Uttar Pradesh border.
The area includes Dholpur and Bharatpur.
Many compositions on Krishna Bhakti are found in this dialect.