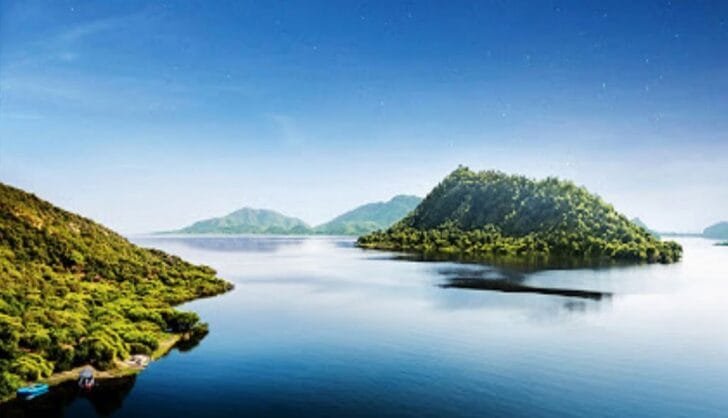 LAKES OF RAJASTHAN | RAS EXAM
Published on May 25, 2021 by Just Prep Raj |
Last Updated on March 15, 2023 by Just Prep Raj
INTRODUCTION
Lake is a water body which is an internal reservoirs of land surface. It is made up of different shaped and size rocky basins. Lakes in Rajasthan are result of wind movement. They can be categorized into two – sweet and salt lakes.
SALT WATER LAKES
–
South western Monsoon winds bring along particles of sodium chloride in summer. They are carried from Rann of Kutch to Rajasthan and pile up here due to inactiveness of speed. Salt lakes are mostly found in desert area.
Sambhar Lake
It is located in Phulera near Jaipur.
It is regarded as biggest salt water lake.
It covers area of 500 sq km.
Khari, Medha, Roopnagar, Khandela rivers join it.
Out of total 5% production of salt under Govt sector in India, 3% is produced in Sambhar.
It produces more than 700 tons of salt.
It is known as Sambhar Salt Ltd which is a subsidiary company of Hindustan Salt Ltd.
The place has historical importance as well because it was kingdom of King Yayati, Capital of Chauhan dynasty, marriage spot of Akbar, temple of Bhagwati Shakambhari Devi and Lokteerth Devyani.
Deedwana Lake
It is located near deedwana city of Nagaur district.
The catchment area is 10 sq. km.
Rajasthan State Chemical Works is situated there to produce sodium sulphide and sodium sulphate.
Rajasthan Salt works is also established here to produce non-human consumption salt.
Pachpadra Lake
It is situated in Pachpadra city of Barmer.
It is expanded over 25 sq. km of area.
People known as Kharwal produce salt particles using a special kind of brush called Morli.
The salt contains 98% of sodium chloride and therefore it has superior quality.
In 1960, branch of Rajasthan Govt. Salt Works was established here.
Loonkarsar Lake
In Bikaner district, it is located 65kms away from the Loonkarsar village.
The quantity of salinity in the water is less.
The production is limited and can meet demand of locals only.
Other such important lakes are Phalodi in Jodhpur, Pokaran and Kavod in Jaisalmer and Kachhor and Rewasa.
SWEET WATER LAKE
–
It is freshwater lake which can be used for drinking and irrigation purpose. It occurs naturally or built artificially and connected to river.
Jaisamand Lake
This is the second oldest and largest lake in the world and first in India.
It is an artificial lake of 87 sq km area, located in Udaipur district.
It was constructed over Gomati river by Maharana Jaisingh in 1628.
Also known as Dhebar lake.
Shyampura and Bhat are two canals built over it for irrigation purpose.
There is a Jaisamand Wildlife Sanctuary around the lake.
Marble Dam on the lake is listed in the Heritage Monuments of India.
Rulers of Mewar used Hawa Mahal constructed on the dam as their winter capital.
There are seven big and small islands in the lake occupied by Meenas and Bheels.
Name of the largest and smallest islands are Baba ka Bhagda and Pyari respectively.
Hotel Island Resort is also situated there.
Rajsamand Lake
It is situated in Rajsamand district near Kankroli village.
Maharana Rajsingh spend around 40 lakhs rupees to build this lake in 17th
It was built in between 1669-1683, which is a period of 14 years.
It is connected to Gomati, Kelwa and Tali rivers.
The lake is 6.4 km long, 2.8 km wide and 60 feet deep.
A place called Nau Chowki has 25 marble inscriptions describing about Mewar kingdom in 1917 Sanskrit verses.
Toran gate and roof of the pillars are adorned with beautiful engravings and sculptures.
Pichola Lake
It is situated in the heart of the Udaipur city.
This artificial lake of fresh water was built to serve the water needed for drinking and irrigation purpose.
It was built in 1362 AD by a nomad during the rule of Rana Lakha, which was later Rana Udai Singh.
It is 4 km long and 3 km wide.
The four islands on the lake enhance the beauty of the lake. They are – Jag Niwas, Jag Manidr, Mohan Mandir and Arsi Vilas.
A palace called Lake Palace now turned into a heritage hotel is located on the Jag island.
Mohan Mandir was built by Maharaja Jagat Singh.
Swaroop Sagar lake connects Pichola and Fatehpura Lake.
Maharana Karan Singh II gave shelter to rebellion Prince Khurram (Shah Jahan) in Jag Mandir when he revolted against Jahangir.
Fatehsagar Lake
Formerly it was built by Maharana Jai Singh built in 1678 in Udaipur city.
Maharana Fateh Singh renovated the lake in 1889 after it got destroyed due to flood.
Duke Connaught, son of Queen Victoria inaugurated the dam and it came to known as 'Connaught Dam'. Later is was renamed as Fateh Sagar lake.
It has three islands within having Nehru Park, a public park and Udaipur Solar Observatory (USO) respectively.
It is spread over area of 4 sq km.
Anasagar Lake
This is biggest lake situated in Ajmer is surrounded by Aravalli Hills.
It was built by Arnoraj (Annaji) in 1135. Therefore, named after him.
It covers an area of 13 km.
Shahajahan built Baradari (Pavilions) on it in 1637. It has 5 gates made of marbles.
There is a garden built by Jahangir known as Daulat Bagh, now renamed as Subhash Udyan.
There is a place called Rishi Udyan on the banks of Ana Sagar Lake. Dayanand Saraswati's ashes were scattered here.
It is listed under National Lake Protection Plan.
Foy Sagar Lake
This lake was constructed by an English Engineer Mr. Foy in 1892.
It was built under a Famine relief project to resolve water related problem during famine days.
An inscription fixed in the lake, reveals that Ajmer was earlier known as 'Ajmere'.
During heavy rain or flood, the water is diverged to Anasagar alke.
The lake is connected to Bandi river.
Pushkar Lake
It is located in Pushkar town, at a distance of 13 km from Ajmer.
Built by Pushkarna Brahmins, it is regarded as sacred place for Hindus.
It has been named as Tirth guru in Hindi scriptures.
There is a famous temple of Brahma which found nowhere in the world.
It is encircled by 52 Ghats and 500 temples.
Pushkar fair is organized on every Probodhnini Ekadashi which lasts till Kartik Poornima (around October-November). People from distant places visit here to take sacred dip in the lake.
Ashes of Mahatma Gandhi was also immersed here.
Pushkar Integrated Development Project was initiated during 1997-98, monetarily funded by Canadian Government.
Among 5 lakes preserved by Union Ministry for Environment and Forests, Pushkar lake is also being maintained under National Lake Conservation Project.
Siliserh Lake
It is a lake spread over area of 10.5 sq km in Alwar.
Maharaja Vinay Singh built a royal palace in the lake which has been now turned into a Luxury Hote Lake Palace.
It is surrounded by beautiful scenery and Chhatris.
Balsamand Lake
It is situated in Jodhpur.
It was built by Balak Rao, a ruler of Parihar Dynasty in 1159.
It has length of 1 km and width of 150 feet.
Balsamand Lake Palace has been built on the bank which was used as summer palace by the royal family.
Kayalana Lake
It is a natural lake situated in Jodhpur.
It was built by Sir Pratap in 1872 by replacing gardens and palaces made by Jodhpur rulers Bhim Singh and Takhat Singh.
Hathi Nehar (Canal) channelize water to this lake from Indra Gandhi canal.
Water for drinking purpose to Jodhpur city is being supplied from here.
Nakki Lake
It is placed at 1200 meters above sea level in Mount Abu.
People believe that God made this lake using their nails.
Around the lake, various rock sculptures are installed, among which a frog shaped Toad Rock, Nun Rock, and Nandi Rock are center of attraction.
It has a path beside leading to the famous beautiful Sunset point.
Raghunath Temple and Maharaja Jaipur Palace are located on the hills near the lake.
Kolayat Lake
It is an artificial lake situated in Bikaner.
There are 52 ghats constructed around the lake.
Kapil Muni resided in an Ashram here.
Every year on Kartik Poornima, a fair is organized where followers of Sankhya philosophy take dip in the sacred water of the lake.
Jamwa Ramgarh lake
It was built in 1909 by Maharaja Sawai Jai Singh II.
It was used for water supply to Jaipur city and nearby villages.
As a famous picnic spot, it allures local tourist during monsoon days.
The catchment area is around 15.5 sq km.
Rowing competition in 1982 Asian Games was held here.
Government of India proclaimed it as Wildlife Sanctuary in 1982.