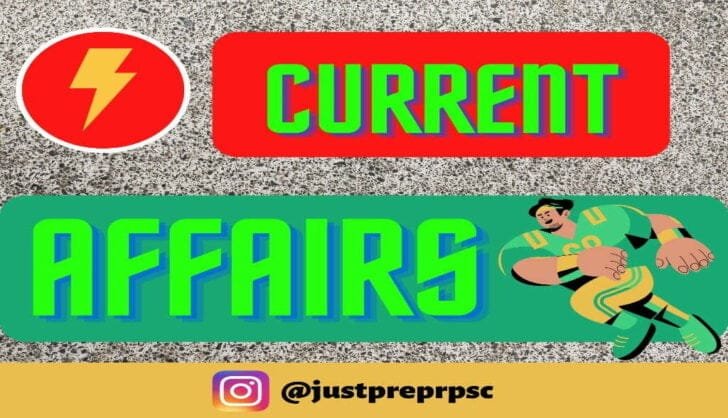 NATIONAL CURRENT AFFAIRS 1-2 JAN | RAS
Published on January 4, 2023 by Just Prep Raj |
Last Updated on March 29, 2023 by Just Prep Raj
NATIONAL NEWS | 1-2 JAN | RAS | PRE | MAINS
National News
G Kamala Vradhan Rao appointed the chief executive officer of FSSAI.
         FSSAI:- Food Safety and Standards Authority of India has set up under the Food Safety and Standards Act, 2006.
It comes under the Union Minister of Health and Family Welfare.
Dinesh Kumar Shukla assumed the charge as the chairman of the Atomic energy Regulatory Board.

BSE (Bombay Stock Exchange) appoints Sundararaman Ramamurthy as MD, CEO.

Koneru Humpy wins silver at the wolrd chess Blitz Championship.

Hockey Madhya Pradesh clinches Khelo India Youth Games 2022 Men's U-18 Tittle.
Award list:- Best Goal Keeper – Ravi (Haryana) Best Defender – Sundaram Rajawat (MP) Best Striker – Ali Ahmad (MP)
Center approved Karnataka's KALASA – BANDURI Drinking water project, which is facing opposition from Goa and Maharashtra.
The Central water Commission (CWC) has approved the diversion of 1.72 TMC water from Kalsa Dam and 2.18 TMC water from Bhaduri Dam.
Union Home minister Amit Shah lays the Foundation stone of the Central Detective Training Institute (CDTI) at Devanhalli, Karnataka.

1668 Journalists killed in the last 20 years – Reporters without Border Report.
Reporters without Border is an international non-profit organization.

Head quarters – Paris, France.
The Andhra Pradesh Government has introduced a lesson on the contribution of Fatima Sheikh in the text book of 8th class.
Fatima Sheikh was India's First Women Muslim teacher and one of the India's greatest Social Reformer and Educator.
Other Popular Articles
NATIONAL CURRENT AFFAIRS 20 JAN | RAS
मॉडल स्टेट राजस्थान | RAS | PRE | MAINS
Rajasthan Current Affairs| 13 DEC | RAS | PRE | MAINS