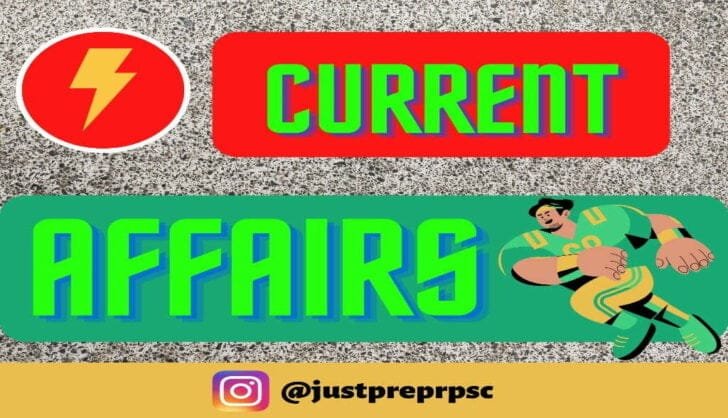 NATIONAL CURRENT AFFAIRS 23 JAN | RAS
Published on January 25, 2023 by Just Prep Raj |
Last Updated on March 14, 2023 by Just Prep Raj
NATIONAL NEWS| CURRENT AFFAIRS | 23 JAN | RAS | PRE | MAINS
National News | Current Affairs
23 January – Parakram Diwas
Netaji Subhas Chandra Bose Jayanti is celebrated as 'Parakram Diwas' on 23 January.
New Zealand Police and education minister Chris Hipkins will replace Jacinda Ardern as Prime Minister.

Goa Manohar International Airport (MIA) has been awarded the prestigious 'Best Sustainable Greenfield Airport' award under Aviation Sustainability and Environment at the ASSOCHAM 14 International Conference.

This year 6 boys and 5 girls are among the awardees, who belong to 11 states and union territories of India.
The Pradhan Mantri Rashtriya Bal Puruskar will take place at Vigyan Bhawan, New Delhi.
Charaideo Maidams the burial mounds of Ahom royalty commonly known as Pyramids of Assam has been nominated by India for recognition as 'UNESCO' World Heritage Site this year.

IIT Madras incubated firm has developed an indigenous Mobile Operating System named 'BharOS'.

Kerala's wayanad district has become the first district in India to provide basic documents and facilities like Aadhar Card, Ration Card, Birth/Death Certificate, Election ID Card, Bank Accounts to all tribes.

Ministry of Information and Broadcasting issues direction to block the first episode of BBC Documentary 'India : The Modi Question' on Youtube.

Ex-SC Judge AK Sikri appointed Administrator of Shooting World Cup 2023.

India's deepest Metro Station to be built at Pune Civil Court.
Other Popular Articles
भारत | मूल कर्तव्य | मौलिक कर्तव्य | RAS | PRE | MAINS
राजस्थान प्रमुख भू-आकृतिक प्रदेश एवं उनकी विशेषताएँ | RAS | PRE | MAINS
Prime Minister | RAS | PRE | MAINS