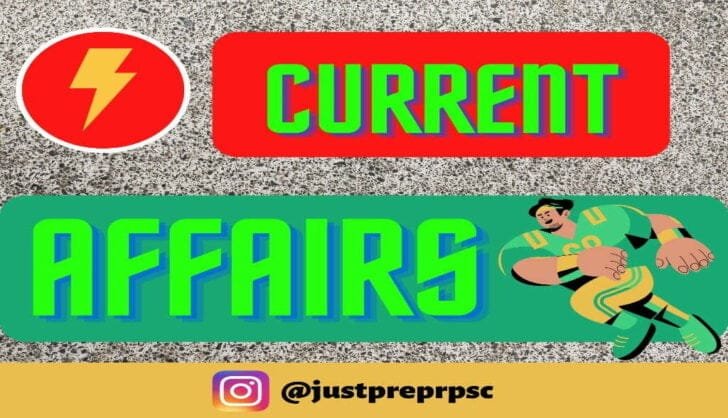 NATIONAL CURRENT AFFAIRS 11 JAN | RAS
Published on January 20, 2023 by Just Prep Raj |
Last Updated on March 15, 2023 by Just Prep Raj
NATIONAL NEWS | 11 JAN | RAS | PRE | MAINS
National News
January 11 – Human Trafficking Awareness Day
The first All India Annual Conference of state ministers is being organized on the theme of water vision @ 2047.
The objective of the conference is to deliberate on the water vision for India for the next 25 years.
Varanasi Cantonment Railway station has been awarded the Eat Right Station with 5 Rating certification.
This certification is part of the Eat Right India movement.
Union Minister of Science and Technology Dr. Jitendra singh has released the theme of National Science Day 2023.
Theme 2023 : Global Science for global well being

National Science Day is celebrate every year on the 28th February to celebrate the discovery of Raman Effect by Indian Physicist Sir C V Raman.
Banglore & Delhi one of the Top-performing global airports of 2022.

The university of Kerala bagged the 'Overall Championship' at the 36th Inter University South Zone Youth Festival in Tirupati.

Kerala becomes Country's First Fully Digital Banking State.

Historian Sanjeev Sanyal released his new book 'Revolutionaries'.

Kashmir's First Gyanpeeth Awardee, Rehman Rahi passes away.

Facebook – parent Meta has appointed Vikas Purohit as Director of its global Business group in India.
Other Popular Articles
राजस्थान प्रमुख भू-आकृतिक प्रदेश एवं उनकी विशेषताएँ | RAS | PRE | MAINS
मौलिक अधिकार | मूल अधिकार | RAS | PRE | MAINS
RAS PRE 2021 | RESULT | OUT