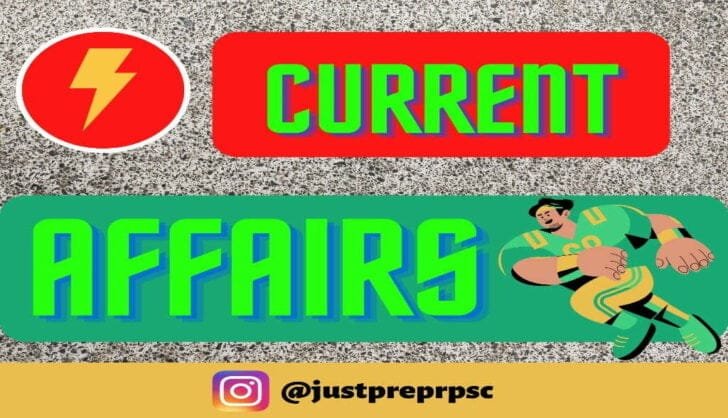 NATIONAL CURRENT AFFAIRS 13 JAN | RAS
Published on January 20, 2023 by Just Prep Raj |
Last Updated on March 15, 2023 by Just Prep Raj
NATIONAL NEWS | 13 JAN | RAS | PRE | MAINS
National News
A Medical Book 'Human Anatomy' in Hindi Manav Sharir Rachna Vigyan was released by the Governor of Madhya Pradesh Shri Mangubhai Patel and written by Dr. Ashvini Kumar Dwivedi.

A New British Indian Army Memorial has been approved to be built in the Scottish city of Glasgow to Commemorate the sacrifices of million of Indian Soldiers who fought alongside the British during the IInd world war.

Defence Research and Development organization (DRDO) has successfully launched short-range Ballistic Missile (SRBM), Prithvi-II from the Integrated Test Range, Chandipur, Odisha Coast.
The Prithvi-II class is a single – stage liquid fueled missile with a payload of 500-1000kg has warhead mounting capability.

Range : 350km

The 5 missile (P-A-T-N-A) developed under this program are:-
(i) Prithvi :- Short range surface missile.
(ii) Agni :- Surface to surface medium range ballistic missile.
Agni (1,2,3,4,5)
(iii) Trishul :- Short range surface to air missile.
(iv) Nag :- Third generation anti-tank missile.
(v) Akash :- Medium range surface to air missile.
'Ayyanur Ammanur' is a festival celebrated by the Kota tribe of Nilgiris.
During the festival, this tribe collects clay to make pottery.
The new integrated food security scheme has been named as PM Garib Kalyan Anna Yojana (PMGKAY) to provide free grains to Antyodaya Anna Yojana and Primary Household Beneficiaries.

Mansukh Mandaviya released a book titled Braving A viral storm.

Father of laparoscopic surgery Tehemton udwadia passed away.
Other Popular Articles
मौलिक अधिकार | मूल अधिकार | RAS | PRE | MAINS
NATIONAL CURRENT AFFAIRS 24 JAN | RAS
NATIONAL CURRENT AFFAIRS 21 JAN | RAS