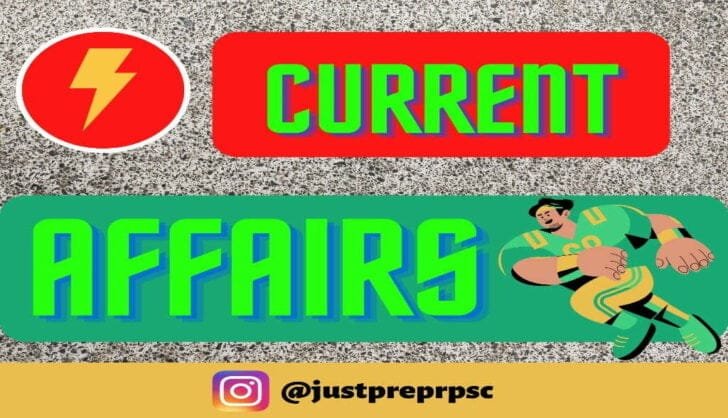 NATIONAL CURRENT AFFAIRS 14 JAN | RAS
Published on January 20, 2023 by Just Prep Raj |
Last Updated on March 15, 2023 by Just Prep Raj
NATIONAL CURRENT AFFAIRS | 14 JAN | RAS | PRE | MAINS
National News | Current Affairs
Samudrayaan Mission –
India will send three men, 6000 meters below sea level to search for mineral resources under the Samudrayaan Mission.

This mission is a part of the Deep Ocean Mission.

It was announced by the National Institute of Ocean Technology (NIOT) with ISRO's Gaganyaan Mission.
Renowend sand artist Sudarshan Pattnaik built the world's largest Hockey Sculpture on the banks of Mahanadi River in Cuttack, Odisha.

Grand Cultural Program 'Sur Sarita – Symphony of Ganga' organized in Varanasi.
On the eve of the launch of the world's longest River Cruise 'MV Ganga Vilas Cruise' on January 12.

A grand cultural programme 'Sur Sarita – Symphony of Ganga' was organised in Varanasi.
Uganda declares end of Ebola disease outbreak : WHO

French government to increase retirement age from 62 to 64 by 2030.

Ministry of Environment, Forest and Climate change (MOEF) adds Neelankurinji, on the list of protected plants under schedule III of the wildlife (Protection) Act, 1972.
Neelankurinji is an endemic plant found in the Western Ghats from the mangala devi hills to the Nilgiri hills. (blooms once in 12 years)
Tech startup firm IG Drones develops India's first 5G-Enabled Drone.
This drone has been named

It can be used in other areas apart from defence and medical applications.
Ministery of Industry and Advanced Technology of UAE, Dr. Sultan Ahmed AI Jaber has been named as COP 28 President.

ICG ship 'Kamla Devi' last vessel of FPV Series, Commissioned.
NATIONAL CURRENT AFFAIRS 25 JAN | RAS
NATIONAL CURRENT AFFAIRS 24 JAN | RAS
NATIONAL CURRENT AFFAIRS 23 JAN | RAS