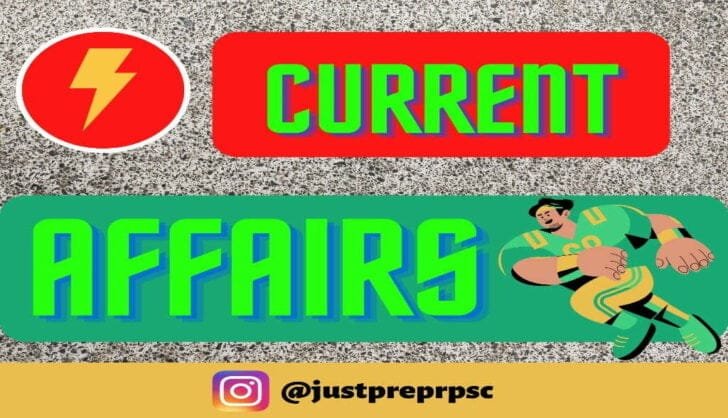 NATIONAL CURRENT AFFAIRS 15 DEC| Jeremy Farrer | RAS
Published on December 15, 2022 by Just Prep Raj |
Last Updated on April 3, 2023 by Just Prep Raj
NATIONAL NEWS | Jeremy Farrer |15 DEC | RAS | PRE | MAINS
National News
Jeremy Farrer (74) has been appointed as a new chief scientist of the World Health Organization (WHO).
He will join WHO in the second quarter of 2023.

He has replaced Soumya Swaminathan, who had served as chief scientist from 2019 to 2022.
Polish Tennis Player, Iga Swiatek (World No. 1) has been selected for the 2022 WTA player of the year by the Woman's Tennis Association.

Railway Minister Ashwini Vaishnaw has announced a new train- 'Kashi Tamil Sangamam' between Kashi in UP and TamilNadu to Commemorate the incredible cultural bond between Kashi and TamilNadu.
Kashi Tamil Sangamam is a month long programme organized by the Ministry of Education, as part of Azadi ka Amrit Mahotsav.
Kerala Forest Department has launched 'Vanikaran' project to restore natural Vegetation.
Sri Aurobindo Ghosh 150th Birth Anniversary:- Dec 13, 2022, PM will release a Commemorative Coin and postal stamp in honor of Sri Aurobindo.
Indian International Science 8th edition will be held in Bhopal. It is an initiative of Ministry of Science and Technology and Ministry of Earth Science of GOI.

New Zealand has passed a new Anti- Smoking laws, which banned the future generation of NZ from purchasing Tobacco.
Frequently Asked Questions
Q.01 What are the 3 main goals of WHO?
Ans: WHO works worldwide to promote health, keep the world safe, and serve the vulnerable. Our goal is to ensure that a billion more people have universal health coverage, to protect a billion more people from health emergencies, and provide a further billion people with better health and well-being.
Q.02 WHO are the members of WHO?
Ans: SOUTH-EAST ASIA
INDIA (2020-2023) Mr Rajesh Bhushan. Secretary, Ministry of Health and Family Welfare. New Delhi.

MALDIVES (2022-2025) Mr Ahmed Naseem. Minister of Health. Malé

TIMOR-LESTE (2021-2024) Dr Odette Maria Freitas Belo. Minister of Health. Dili.
Q.03 WHO is the present head of WHO?
Ans: Dr Tedros Adhanom Ghebreyesus was elected WHO Director-General for a five-year term by WHO Member States at the Seventieth World Health Assembly in May 2017.
Q.04 What are the 5 functions of WHO?
Promoting development. …

Fostering health security. …

Strengthening health systems. …

Harnessing research, information and evidence. …

Enhancing partnerships. …

Improving performance.
Other Popular Articles
मेवाड का इतिहास | HISTORY OF MEWAR | RAS |
Ras Prelims 2023 Strategy Revealed | in Hindi
राजस्थान प्रमुख भू-आकृतिक प्रदेश एवं उनकी विशेषताएँ | GEOMORPHIC | RAS | PRE | MAINS