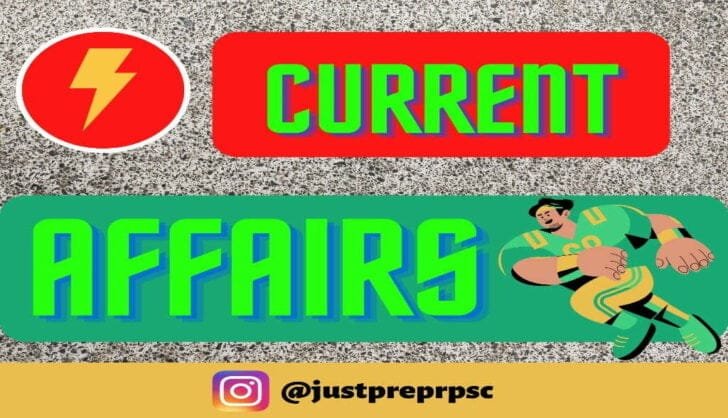 NATIONAL CURRENT AFFAIRS 17 DEC | NAMAMI GANGE | RAS
Published on December 17, 2022 by Just Prep Raj |
Last Updated on March 29, 2023 by Just Prep Raj
NATIONAL NEWS | NAMAMI GANGE | 17 DEC | RAS | PRE | MAINS
National News
1.India has successfully carried out the night trials of nuclear capable ballistic missile AGNI-5 from Abdul Kalam island,off the coast of Odisha. -This missile has a capacity of 5000km. -It is fire and forget missile which cannot be stopped without an interceptor missile.
2.India's 'Namami Gange'- river Ganga rejuvenation project has been recognised as one among world 10 most "ground- breaking" initiative for restoration of natural ecosystem, according to a report in UN biodiversity conference(COP-15).
3.India will be the first country to Auction satellite communications(satcom).
4.Rafael Nadal was crowned the ITF world champion for the fifth time in his career.
5.India launches 'Group of friends'to promote for crime.
6.European Union (EU) agrees to give candidate status to Bosnia.
Frequently Asked Questions
Ans: 'Namami Gange Programme', is an Integrated Conservation Mission, approved as 'Flagship Programme' by the Union Government in June 2014 with budget outlay of Rs. 20,000 Crore to accomplish the twin objectives of effective abatement of pollution, conservation and rejuvenation of National River Ganga.
Q.02 What is the meaning of Namami Gange?
Ans: Namami Gange means bowing to the Ganga river, as the name signifies, the mission is bowing to the river Ganga and is not looking it as just mere water but a lifeline for millions, a spiritual entity, a cultural entity and a natural ecosystem.
Q.03 Is Namami Gange project successful?
Ans: Implementation of projects under the Namami Gange Programme in the states of Uttarakhand, Bihar and West Bengal has been "very effective" and it has "gained momentum, especially recently".
Q.04 Which state is Namami Ganga?
Ans: Government of India has launched Namami Gange Programme, an integrated umbrella programme, aimed to ensure effective abatement of pollution and conservation of river Ganga and its tributaries by adopting a river basin approach
Other Popular Articles
निर्वाचन आयोग | ELECTION COMISSION | RAS | PRE | MAINS
NATIONAL CURRENT AFFAIRS 25 JAN | RAS