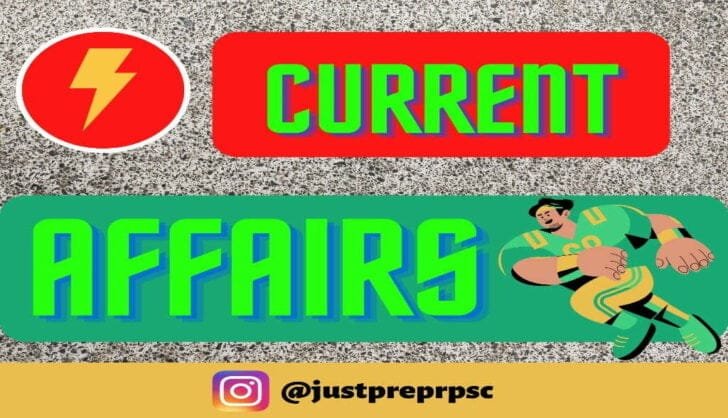 NATIONAL CURRENT AFFAIRS 19 DEC | GOA LIBERATION DAY | RAS
Published on December 19, 2022 by Just Prep Raj |
Last Updated on March 29, 2023 by Just Prep Raj
NATIONAL NEWS | GOA LIBERATION DAY | 19 DEC | RAS | PRE | MAINS
National News
Goa Liberation Day – 19 December 2022.

United Nations Member states have removed Iran from UN Women's rights group.
The resolution was proposed by the US to remove with immediate effect the Islamic Republic of Iran from the commission on the status of women for the remainder of its 2022-2026 term.
The 5th edition of youth CO:Lab, Asia Pacific largest youth innovation initiative was jointly launched by Atal Innovation Mission (AIM), NITI Aayog and UNDP India.

AIIMS Delhi campus declared 'Tobacoo Free Zone'.

Update list of Threatened species:-

White-Cheeked Dancing Frog – Endangered

Andaman Smooth hound shark – Vulnerable
The International Union for Conservation of Nature Red list of Threatened species, also known as IUCN Red Book. Founded in 1964, is the world's most comprehensive inventory of the global conservation status of biological species.
World football govering body FIFA president Gianni Infantino announced that ,Moracco will host the next football world cup.

NASA launches internation mission Surface Water And Ocean Topography (SWOT)mission to track nearly all the water on Earth's surface.
FREQUENTLY ASKED QUESTIONS
Q.01 Why is Goa Liberation Day celebrated?
Ans: Goa Liberation Day' is celebrated on December 19 to commemorate the state's liberation from Portuguese rule in 1961. As part of Operation Vijay, the Indian armed forces used the armed forces trifecta with the help of local resistance movements to eradicate European rule from the country.
Q.02 When was Goa liberated?
Ans: Goa, an Indian state, was liberated on December 19, 1961, from around 450 years of Portuguese rule. The movement for independence in the 19th century in India had some impact to a lesser extent in Goa also. The residents of Goa also participated in Satyagraha in 1940s.
Q.03 What was Goa called before?
Ans: The medieval Arabian geographers knew it as Sindabur, or Sandābūr, and the Portuguese called it Velha Goa. It was ruled by the Kadamba dynasty from the 2nd century ce to 1312 and by Muslim invaders of the Deccan from 1312 to 1367.
Q.04 Who are the 10 Goan freedom fighters?
Ans: DE, Narayan Vithal Palekar, Umanath Anant Verkekar, Mangueshkar Ramakant Keshav, Paes Emiterio Antonio Jaao Alias Sebastio Alias Emiterio, Jouquim Page 2 Conceicao Souza Ferrao, Fernandes Roque Santana, Kesarkar Vishnu Harischandra and Shashikant Bondre.
Other Popular Articles
संविधान संशोधन | RAS | PRE | MAINS
मौलिक अधिकार | मूल अधिकार | RAS | PRE | MAINS
मॉडल स्टेट राजस्थान | RAS | PRE | MAINS