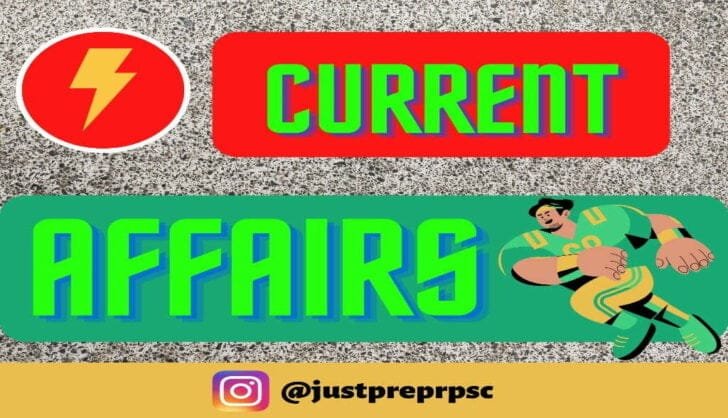 NATIONAL CURRENT AFFAIRS 21 DEC | COP 15 | RAS
Published on December 25, 2022 by Just Prep Raj |
Last Updated on March 28, 2023 by Just Prep Raj
NATIONAL NEWS | 19 DEC | COP 15 | RAS | PRE | MAINS
National News
United Nation Biodiversity Conference (COP 15) ended in Montreal Canada on 19 Dec 2022.
         Target to protect 30% of land and water considered important for biodiversity by 2032, known as 30 by 30.
Member of the European Union agreed to implement a minimum tax of 15% on Big business.

Lionel Messi becomes the Professional Soccer Player with the most appearances in FIFA World Cup.

Indian Oil Corporation (IOCL) has partnered with Fuel Buddy online platform for door step delivery of lubricant.

Union Minister of State Dr. Jitendra Singh inaugurated the countrywide good governance week a nationwide launch of "Prashasan Gaon Ki Ore" Campaign.

Union Minister for Science & Technology Dr. Jitendra Singh, who is also the Vice-President of CSIR, launches the new tagline of the Organisation "CSIR-The Innovation Engine of India".
The loksabha passed the Constitution (Scheduled Tribes) order (4th Amendment) Bill 2022.
– Bill is yet to be approved by parliament.          
– The people of the 'Betta-kuruba' community have been living in Chamaranj nagar Kodagu and Mysore districts of Karnataka. 
FREQUENTLY ASKED QUESTIONS
Q.01 What does COP 15 stand for?
Ans:- The 15th Conference of the Parties (COP15) to the United Nations Convention on Biological Diversity (CBD) was an international meeting that brought together governments from around the world.
Q.02 What is the starting salary of Iocl for freshers?
Ans:- Graduate Engineer Trainee (Get) salary at Indian Oil Corporation Limited India ranges between ₹ 8.0 Lakhs to ₹ 17.5 Lakhs. According to our estimates it is 218% more than the average Graduate Engineer Trainee (Get) Salary in Oil & Gas Companies.
Q.03 What does CSIR stand for?
Ans:- The Council for Scientific and Industrial Research, commonly known as the CSIR, is a world-class African research and development organisation established through an Act of Parliament in 1945.
Q.04 Is CSIR a good career?
Ans:- Besides the enormous amount of job opportunities associated with the CSIR NET exam, one gains a lifetime of scientific skills and knowledge. This knowledge and achievement help the candidate progress on the career front but also help one to grow personally.