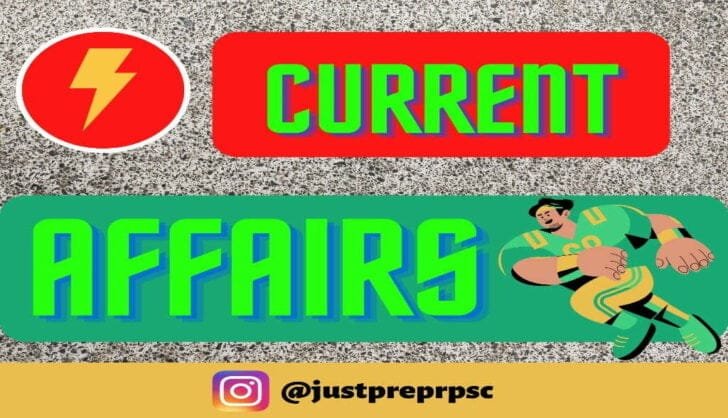 NATIONAL CURRENT AFFAIRS 23 DEC | NAAC | RAS
Published on December 25, 2022 by Just Prep Raj |
Last Updated on March 26, 2023 by Just Prep Raj
NATIONAL NEWS | 23 DEC | NAAC | RAS | PRE | MAINS
National News
22 December- National Mathematics Day.

Winter Solstice occurs annualy on December 21 or 22.
   The winter Solstice is the Day with the fewest hours of Sunlight in the whole year, making it the "Shortest Day" of the year.
Sethrichem Sangtam, who works with farmers in eastern Nagaland, has won the Rohini nayyar Prize for outstanding contribution to Rural Development.

Three more sites added to tentative list of UNESCO–
(a) Vadanagar – A multi layer Historic town (b) Sun Temple, Modhera (c) Rock – Cut Sculptures and Relief of the Unakoti, Tripura.
Puducherry, Lakshdweep and Goa adjudged best performers in Social Progress Index.

Jaipur Pink Panthers won 9th Pro Kabaddi League title.

23 December – National Farmer's Day.
         Book:- 'Fit at any Age' – by Retd. Air Marshal PV Iyer
By scoring 3.85 points Guru Nanak Dev University, Amritsar become only university in India to get A++ Grade by NAAC.

'Naatu Naatu' from RRR and Gujarati film 'Chello Show' shortlisted for Oscars.

The annual census of dolphins began in Odisha's Bhitarkanika National Park and Ghirmatha Marine Sanctuary.
Union Minister of Steel and Civil Aviation Shri Jyotiraditya M. Scidhia has launched India's First green Steel Brand .'KALYANI FERRISTA' in New Delhi.
FREQUENTLY ASKED QUESTIONS
Q.01 Why is National Maths day celebrated?
Ans:- National Mathematics Day is observed annually on December 22nd to mark the anniversary of the eminent mathematician Srinivasa Ramanujan's birth. He was born in Erode, Tamil Nadu, in 1887 to a humble Iyengar Brahmin family.
Q.02 What does NAAC mean?
Ans:- The NATIONAL ASSESSMENT AND ACCREDITATION COUNCIL (NAAC) conducts assessment and accreditation of Higher Educational Institutions (HEI) such as colleges, universities or other recognised institutions to derive an understanding of the 'Quality Status' of the institution.
Q.03 What is the main purpose of the UNESCO?
Ans:- UNESCO's mission is to contribute to the building of a culture of peace, the eradication of poverty, sustainable development and intercultural dialogue through education, the sciences, culture, communication and information.
Q.04 Which is the first Indian
UNESCO
?
Ans:- The first sites to be listed were the Ajanta Caves, Ellora Caves, Agra Fort, and Taj Mahal, all of which were inscribed in the 1983 session of the World Heritage Committee. The most recent site listed was Dholavira, in 2021.
Other Popular Articles
NATIONAL CURRENT AFFAIRS 20 JAN | RAS
NATIONAL CURRENT AFFAIRS 19 JAN | RAS