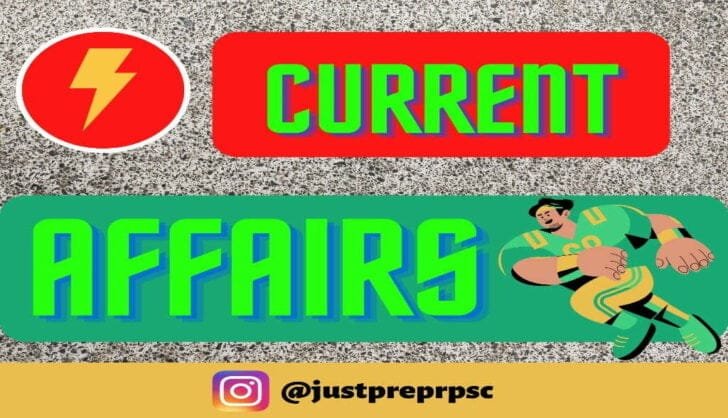 NATIONAL CURRENT AFFAIRS 29 DEC | PRASAD SCHEMES | RAS
Published on December 29, 2022 by Just Prep Raj |
Last Updated on March 22, 2023 by Just Prep Raj
NATIONAL NEWS | 29 DEC | PRASAD SCHEMES | RAS | PRE | MAINS
National News
President of India Droupadi Murmu inaugurated the 'PRASAD' project at the tourism facilitation center in the pilgrim town of srisailam in Andhra Pradesh.
PRASAD Schemes:- This was launched in 2014-15, under the ministry of Tourism.
Prasad Schemes stands for 'Pilgrimage Rejuvenatim and spiritual Augumentation Drive' in its entirety.

Srisailam Temple :- The Temple dedicated to the deity shiva and goddess Parvathi.
The Indian Institute of Science (IISc), Bengaluru has been named the secretariat for science (20) [S20], the G20 summit's science working group.
         S20, 2023 Theme:- Disruptive Science for Innovative and Sustainable Development.
Recently a powerful "Bomb Cyclone" has hit the United States, affecting at least 200 million people.
         'Bomb Cyclone' – A mid-latitude cyclone that rapidly intensifies.
It is gaint winter storm that hits the coast and brings strong winds, flooding, snow and ice.
Prabhu Chandra Mishra was honoured with the prestigious Atal Samman Award during the 9th Atal Samman Samaroh.
He was awarded for his excellence in field of Science and Research.
Lt. Gen Arvind Walia appointed next Engineer in chief of Indian Army.

The Government of India has designated the Ministry of Electronics and Information Technology (MeitY) as the nodal ministry to oversee the online gaming industry in India.
Frequently Asked Questions
Q.01 What is the scheme of Prasad?
Ans:The full form of the PRASAD scheme is 'Pilgrimage Rejuvenation And Spiritual Augmentation Drive'. This scheme focuses on developing and identifying pilgrimage sites across India for enriching the religious tourism experience.
Q.02 What are the projects under Prashad scheme?
Ans: Based on the requests received from the State Government of Karnataka, Sri Chamundeshwari Devi Temple of Mysuru, Sri Madhwa Vana of Udupi, Papnash Temple of Bidar District and Sri Renuka Yallamma Temple, Saudatti, Belagavi have been identified under PRASHAD Scheme.
Q.03 What is Prasad scheme benefits?
Ans: The most significant benefit of the Prasad scheme is that it will help to preserve the cultural significance of heritage or pilgrimage sites and provide a comfortable tourist experience. Besides, it will act as a spur to the economic development of local communities.
Q.04 WHO launched Prashad scheme?
Ans:  The Ministry of Tourism, The Government of India launched the PRASAD scheme in the year 2014-2015 under the Ministry of Tourism. The full form of the PRASAD scheme is 'Pilgrimage Rejuvenation And Spiritual Augmentation Drive'.
Other Popular Articles
NATIONAL CURRENT AFFAIRS 24 JAN | RAS
NATIONAL CURRENT AFFAIRS 24 JAN | RAS
NATIONAL CURRENT AFFAIRS 23 JAN | RAS