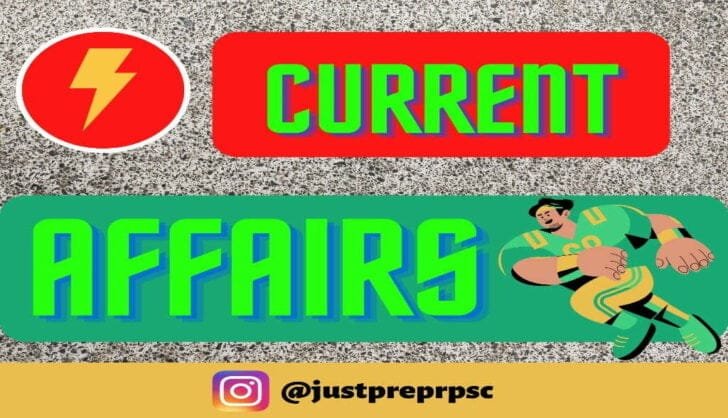 NATIONAL CURRENT AFFAIRS 3 JAN | RAS
Published on January 4, 2023 by Just Prep Raj |
Last Updated on March 15, 2023 by Just Prep Raj
NATIONAL NEWS | 3 JAN | RAS | PRE | MAINS
National News
Luiz Inacio Lula da Silva Sworn in as 39th President of Brazil.

Air Marshal Pankaj Mohan Sinha assumes command of the IAF western command.

N Chandrasekaran appointed as head of Maharashtra government advisory council.

East – West Metro Corridor Project is expected to be completed by December 2023.
India's First Underwater Metro Service.

The East – West corridor of Kolkata Metro is 15 km long and spans from salt lake stadium to Howrah.
India got its first In Vitro Fertilization (IVF) mobile unit for animal in Gujarat Amreli.

The ministry of Rural Development under the Deendayal Antyodaya yojana – National Rural Livelihoods mission has launched the Prajjwala Challenge.
Aim:- To invite ideas, solutions and action that can transform rural economy.
The Election Commission of India has started 'Mission 929' in Tripura.
It will focum on 929 polling booths across Tripura with a target to increase the voter turnout to 92% in next assemble elections.
DEXA : BCCI introduces new selection criteria of Team India.
The new rule brought back the YO-YO test and made it mandatory for players to be selected for the national team.
YO-YO test- This test is an aerobic endurance fitness test that involves running between markers placed 20 mtr apart at increasing speed.
What is DEXA:- It is also called 'Bone Density Test' is an X-ray technique used to measure bone strength.
Other Important Articles 
निर्वाचन आयोग | RAS | PRE | MAINS
संविधान की प्रस्तावना | RAS | PRE | MAINS
सर्वोच्च न्यायालय | RAS | PRE | MAINS