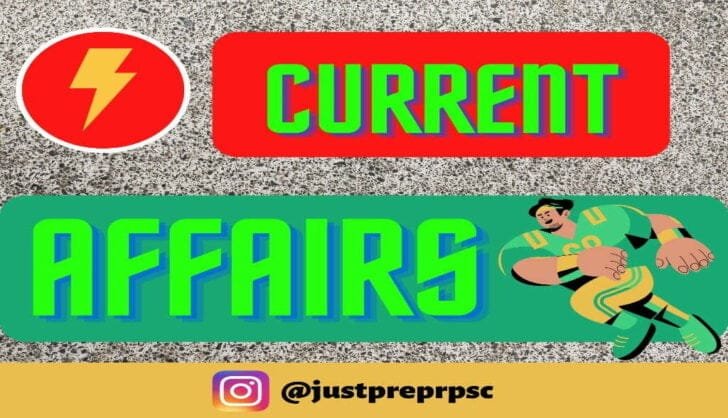 NATIONAL CURRENT AFFAIRS 7-8 JAN | RAS
Published on January 12, 2023 by Just Prep Raj |
Last Updated on April 8, 2023 by Just Prep Raj
NATIONAL NEWS | 7-8 JAN | RAS | PRE | MAINS
National News
The Union Cabinet approved the National green Hydrogen Misson.
It aims to achieve green hydrogen production capacity of 5 million metric tons and add 125 GW of renewable energy capacity by 2030.

The main objective of this mission is to increase the export of green hydrogen and Reduce the import of fossil fuel worth more than 1 lakh crore.
UIDAI said that Aadhar Card holders who do not their own documents can change their address online with the consent of head of the household.

The first case of XBB1.5 sub-variant of Omicron has been confirmed in Gujarat by the national Genome sequencing consortium.

The Himachal Pradesh government will set up Chief Minister's Sukhashraya Sahayata Kosh for destitute people.
Kosh will be set up with an outlay of Rs. 101 crore.
The Investor Education and Protection Fund will launch an outreach programme to raise awareness about cryptocurrencies.

NTPC Limited has commissioned the Country's first green hydrogen blending project.
It will supply H2 NG to household in Kawas Township in Adityanagar, Surat.
Croatia has joined the passport-free Schengen area after which it has adopted Euro as its Currency.
Croatia with a population of about 4 million said goodbye to its Kuna Currency.
Other Popular Articles
मॉडल स्टेट राजस्थान | RAS | PRE | MAINS संविधान की प्रस्तावना | RAS | PRE | MAINS Rajasthan Current Affairs| 16 DEC | RAS | PRE | MAINS