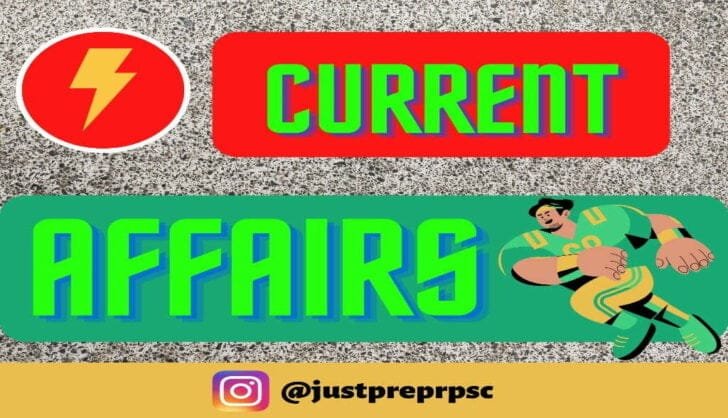 NATIONAL CURRENT AFFAIRS 14 DEC | Indian Olympic Association | RAS
Published on December 14, 2022 by Just Prep Raj |
Last Updated on April 6, 2023 by Just Prep Raj
NATIONAL NEWS 14 DEC | RAS | PRE | MAINS
National News
Ajay H Patel has been elected as the senior vice President of the Indian Olympic Association (IOA).
         Legendary former Athelete PT Usha has been elected as the first woman president of the Indian Olympic Association (IOA).
Karnataka shooter Divya T.S has been secured her 1st women's 10m. air pistol national title at the 65th national shooting championship competition in pistol events held in Bhopal held from 20th Nov.to 10th Dec 2022.

Indian-American Krishna vavilala has been honoured with the Presidential Lifetime Achievement (PLA) award for his contribution to his community and the country. Vavilala is from Andhrapradesh & the founder of Foundation for Indian Studies (FIS).

Indian TV actor Dev Joshi will be joining the 'dearMoon CREW'and taking a week long trip around the moon in a spaceX Rocket in 2023. 'The dearMoon' project was first announced in 2017 and it is the first civilian mission to the moon.

SpiceJet has been awarded the 'Safety Performer of the year' award by GMR Delhi airport awards 2022 for being the top performer among the self handling airlines.

Ministry of culture has set up seven Zonal Culture Centers (ZCC) at-
1.Patiala           2.Nagpur           3.Udaipur           4.Prayagraj           5.Kolkata           6.Dimapur           7.Thanjavur These centres aim to Conserves and develop art, culture and craft across the country.
Frequently Asked Questions
Q.01 Who is the CEO of Indian Olympic Association?
Ans: The Indian Olympic Association is currently governed by a 32-member Executive Council, headed by President, Dr. Narinder Dhruv Batra. The election for the Executive Council is held once in every 4 years.
Q.02 Where is the Indian Olympic Association is located?
Ans: New Delhi, India
Q.03 What is the name of the Indian Olympic Association?
Ans: This gave impetus to the development and institutionalization of sports in India, and, in 1927, the Indian Olympic Association (IOA) was formed, with Sir Dorabji Tata as its founding President and Dr. A.G. Noehren as Secretary.
Q.04 Who is Indian Olympic lady?
Ans: They are Karnam Malleswari, Mary Kom, Saina Nehwal, P. V. Sindhu (twice), Sakshi Malik, Saikhom Mirabai Chanu and Lovlina Borgohain. The first Indian woman to ever win an Olympic medal was Karnam Malleswari, who won a bronze medal at the 2000 Sydney Olympics in the Women's 69 kg category in Weightlifting.
Other Popular Articles
राजस्थान प्रमुख भू-आकृतिक प्रदेश एवं उनकी विशेषताएँ | GEOMORPHIC | RAS | PRE | MAINS
Ras Prelims 2023 Strategy Revealed | in Hindi