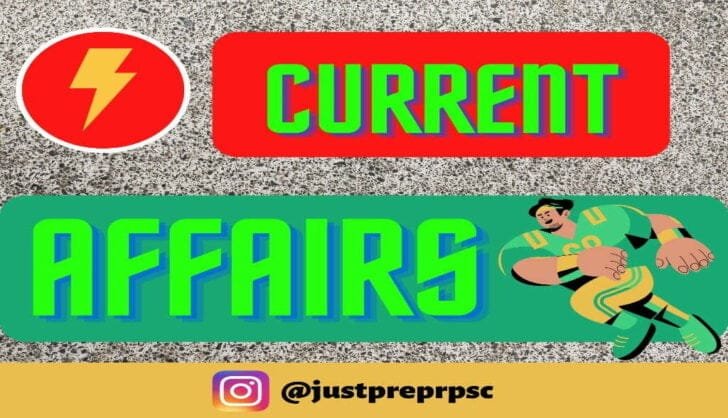 NATIONAL CURRENT AFFAIRS 13 DEC | RAS
Published on December 13, 2022 by Abhishek Shekhawat |
Last Updated on March 15, 2023 by Just Prep Raj
NATIONAL NEWS | 13 DEC | RAS | PRE | MAINS
National News
Justice Dipankar Datta takes oath as Supreme Court Judge.
The Number of Judge in the apex Court has now increased to 28.
The sanctioned strength of the Supreme Court is 34 including CJI. (1+33)
Justice Datta, will have a tenure till February 8, 2030.
Person in News – Sulochana Chavan
Veteran Lavani singer Sulochana Chavan passed away at 92, in Mumbai.

She was known as 'Lavani Samradnyi (Queen of Lavani)' for her singing contribution to the Art.

She was Awarded the Padma Shri in March 2022

Sangeet Natak Akademi Award – 2012

Lata Mangeshkar Award in MH – 2010
Indian origin, Nihar Malaviya has been named interim CEO of international Publishing group Penguin Random House and will assume the role from January 1, 2023.
sports
Viktor Axelsen has won his eighth title for Men's single BWF World Tour Finals 2022 in Bangkok, Thailand.

Women's singles winner – Tai Tzu Ying

World No.3 Sukant Kadam won a gold Medal at the Peru Para-Badminton International Championship in Lima.

Three Medicinal Plant species (Meizotropis Pellita, Fritilloria Cirrhosa, Dactylorhiza hatagirea) have been listed in the IUCN Red list.

These species are found in the Himalayan Region spread across Nepal, India, China, Sikkim.
Meizotropis – 'criticallly endangered'

Fritilloria cirrhosa – 'vulnerable'

Dactylorhiza hatagiarea – 'endangered'

Meghalaya Awarded for TB Control Programme.

27th Edition of the International Film Festival – Kerela

Japan's space launches World's First Commercial Moon lander, HAKUTO-R.