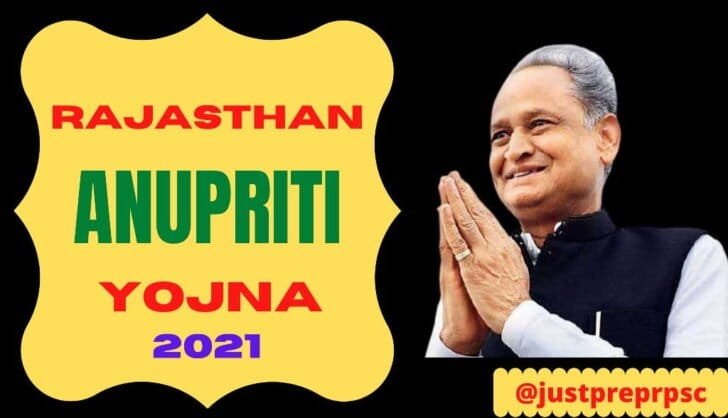 RAJASTHAN ANUPRITI YOJANA 2021
Published on September 16, 2021 by Just Prep Raj |
Last Updated on March 15, 2023 by Just Prep Raj
INTRODUCTION:
The Rajasthan Anupriti Yojana was launched in 2005 by the state government. The scheme aims to provide financial support to talented candidates from families belonging to Schedule Castes, Schedule Tribes, Special Backward Classes, Other Backward Classes, and BPL of the General Category of the state. The students preparing for various competitive exams like Indian Civil Services, Rajasthan Civil Services, IITs, IIMs, CPMTs, NITs and other government engineering and medical entrances.The Social Justice and Empowerment Department will be the nodal agency for the operation of the Chief Minister's Anupriti Coaching Scheme.
KEY FEATURES:
Under this scheme, an incentive amount of up to Rs 1 lakh will be provided by the Rajasthan government to the poor students of scheduled castes and scheduled tribes passing at various levels in the All-India Civil Services Examination. This amount will be made available at different levels. The annual income of the family of SC / ST / Special Backward Class candidates taking advantage of this scheme should not exceed Rs 2 lakh.
The scheme will also make available an incentive amount of Rs 10 thousand to the students on qualifying in RPMT / RPET, the engineering and medical entrance examination to be conducted by the state government and taking admission in the Government Medical and Engineering College.
The government has decided to benefit 10,000 students of different categories which can be classified as following: 200 for Civil Services Examination conducted by Union Public Service Commission, 500 for RAS and Subordinate Services Combined Competitive Examination conducted by Rajasthan Service Commission, 800 for Sub Inspector and other examinations of Pay Matrix Level 10 and above, 800 for REET 1500 for Rajasthan Staff Selection Board, 1200 for examination from Pay Matric 5 to Pay Matric 10, 4000 for Engineering Medical Entrance Examination and 1000 students for CLAT will be provided benefits every year through this scheme.
If the students get coaching from the institute located in other city, then an additional amount of ₹ 40000 per year will be provided to the students for food and accommodation.
The benefit of this scheme will be provided to the students for one year only.
Candidates will receive Rs 65,000, Rs 30,000, Rs 5000 on qualifying UPSC preliminary, mains and interview round respectively.
Candidates will receive Rs 25,000, Rs 20,000, Rs 5000 on qualifying RPSC preliminary, mains and interview round respectively.
ELIGIBILITY

:
It is mandatory for the applicant to be a permanent resident of Rajasthan to get the benefit of Chief Minister Anupriti Coaching Scheme.
Students belonging to Scheduled Castes, Scheduled Tribes, Other Backward Classes, Most Backward Classes, Minorities and Economically Weaker Sections can apply.
This application can be made through Tribal Regional Development Department Social Justice Empowerment and Minority Affairs Department.
All those students whose parents are working as state government employees up to matriculation level 11 and getting salary can also get the benefit of this scheme.
To get benefits under this scheme, the annual income of the applicant's family should be ₹ 800000 or less.
DOCUMENTS REQUIRED:
Applicant's Aadhar card
Attested copy of residence certificate
Income certificate
Attested copy of caste certificate
Attested copy of BPL certificate
BPL issued by the competent authority. attested copy of the certificate
Attested copy of the certificate of passing the various stages of the competitive examination
Attested copy of the certificate of passing the entrance examination and taking admission in the educational institution
Affidavit
Mobile number
Passport size photo