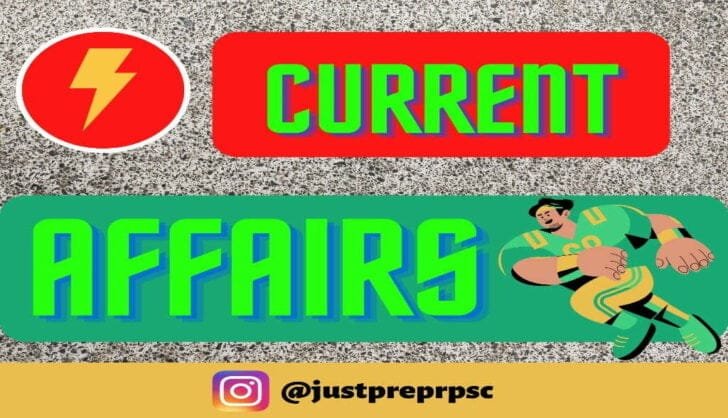 Rajasthan Current Affairs 13 DEC | RAS | PRE | MAINS
Published on December 13, 2022 by Just Prep Raj |
Last Updated on April 6, 2023 by Just Prep Raj
RAJASTHAN CURRENT AFFAIRS 13 DEC | 2021
राजस्थान इंटरनेशनल फिल्म फेस्टिवल 2023 का आयोजन जयपुर में होगा |

राज्य का पहला डेजटपार्क किशनबाग़, जयपुर में बनेगा |

एयरपोर्ट ऑथोरिटी ऑफ़ ने राजस्थान के अजमेर एयरपोर्ट के किशनगढ़ में फ्लाइंग एकेडमी खोलने की घोषणा की |

राजस्थान के किसान सुरेन्द्र अवाना को 'अभिनव किसान पुरुस्कार 2021' से सम्मानित किया गया |

जयपुर के चौधरी चरण सिंह राष्ट्रीय कृषि विपणन संस्थान (NIAM) को कृषि विपणन के क्षेत्र में और देश में कृषि अध्मिता को बढ़ावा देने के लिये एजुकेशन लीडरशिप अवार्ड दिया गया |

राजस्थान सरकार ने प्रतियोगी परीक्षाओ के बेहतर आयोजन का सुझाव देने के लिये न्यायमूर्ति विजय कुमार व्यास की अध्यक्षता में उच्चस्तरीय समिति का गठन किया गया |

अंतरराष्ट्रीय जयपुर साहित्य महोत्सव 2023 का आयोजन रोम (इटली) में होगा |
Frequently Asked Questions
Q.01 What is Desert National Park Rajasthan known for?
Ans: The Thar desert though one of the smallest deserts in the world it harbours a wide array of flora and faunal species. It is only place where Rajasthan State Bird (Great Indian Bustard), State animal (Chinkara) and State tree (Khejri) and State flower (Rohida) are found naturally.
Q.02 What is Desert National Park Jaisalmer famous for?
Ans: Desert National Park of Jaisalmer is known to house 150 different varieties of residential and migratory birds. It is a common phenomenon to locate endangered species of The Great Indian Bustard.
Q.03 How to visit Desert National Park Jaisalmer?
Ans: The Desert National Park is 40kms from Jaisalmer and can be easily reached by car or other vehicles. The nearest airport to Jaisalmer is Jodhpur Airport. Tourists can book cabs to reach Jaisalmer or the Desert National Park, as per their convenience.
Q.04 Which city is known as desert kingdom of Rajasthan?
Ans: The Thar Desert is thinly populated; the City of Jodhpur is the largest city in the desert and a major metropolitan area of India which is known as the gateway of the Thar desert.
Other Popular Articles