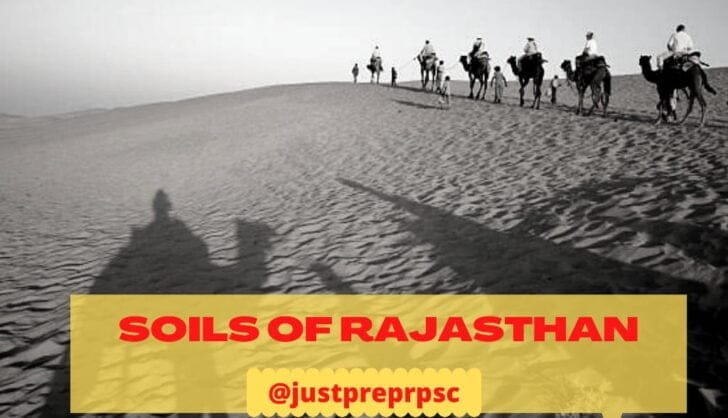 SOILS OF RAJASTHAN | RAS | REET | PATWAR
Published on January 15, 2022 by Just Prep Raj |
Last Updated on March 15, 2023 by Just Prep Raj
INTRODUCTION
Agriculture in a region highly depends on the type and quality of the soil, irrigation, and climate in that area. In Rajasthan, soil fertility changes from the north-west to the east and north-east. There are mainly eight types of soils found in the state.
Types of Soil in Rajasthan:
BROWN SOIL
This type of soil is found in region of Banas and its tributaries in the east of the Aravalli.
The color of the soil is brown. It lacks nitrogen and phosphorus salts.
It is found in areas Tonk, Bundi, Swami Madhopur, Bhilwara, Udaipur and Chittorgarh.
SIEROZEM SOIL
It is found in the small sand dunes of the west of Aravalli.
Also known as Grey Desert soil.
The color of the sand is the yellow brown.
It is less fertile because of the lack of the nitrogen and carbon.
It is mostly found in the region of Pali, Nagaur, Ajmer, and Jaipur.
RED DESERTIC SOIL
It is naturally red in color found in desert area.
It does not have nitrogen and carbonic substances.
It is found in Jalore, Nagaur, Pali, Jodhpur, Barmer, Churu, Jhunjhunu.
RED LOAMY SOIL
It is red in color with very fine particles with moisture in it.
It is rich in iron oxide and thus, has red color.
It lacks nitrogen, phosphorus and calcium salts.
It is found in the southern part of the state such as Dungarpur, Banswara, Udaipur, and Chittorgarh.
It is most suitable for the production of the corn.
MOUNTAINOUS SOIL
It is found in the foothills of the Aravalli.
It is of red and yellow-brown colors.
It lacks density which makes it infertile.
It is found in the region of Sirohi, Udaipur, Ajmer, Pali, and Alwar.
SANDY SOIL
It is the most common soil of the state.
Found in north-western region parts of Aravalli like Bikaner, Jodhpur, Barmer, Jaisalmer, Jalore, Jhunjunu and Churu.
It has thick particles but lack nitrogen and carbonic substances.
Kharif crops cultivated in this soil are bajra, moth, moong.
ALLUVIAL SOIL
It is yellow in color.
It has moisture because of it is brought down by river water.
It has plenty of nitrogen and carbonic substance.
It is suitable for the cultivation of both Rabi and Kharif crops such as wheat, rice, cotton, tobacco.
This type of soil is found in the Alwar, Jaipur, Ajmer, Tonk, Sawai Madhopur, Bharatpur, Kota, Dholpur region.
ALKALINE SOIL
It occurs in the lower part of the state due to water logging conditions.
It is not fit for the agriculture as it has more alkaline substance.
The soil can be found in Sriganganagar, Jalore, Bikaner, and Barmer districts.
HADAUTI SOIL
Soil found in the Hadauti region are black, red and yellow in color.
They are found in Bhilwara, Tonk, Malwa region, Chambal and Banas basin, Kota, Jhalawar, Sawai Madhopur, and Bundi.
It lacks iron, silica, nitrogen, calcium, phosphorous, sulphur, carbon and other bio-elements.
Crops like jwar, corn, cotton, sugarcane, mustard, pulses and juicy fruits.