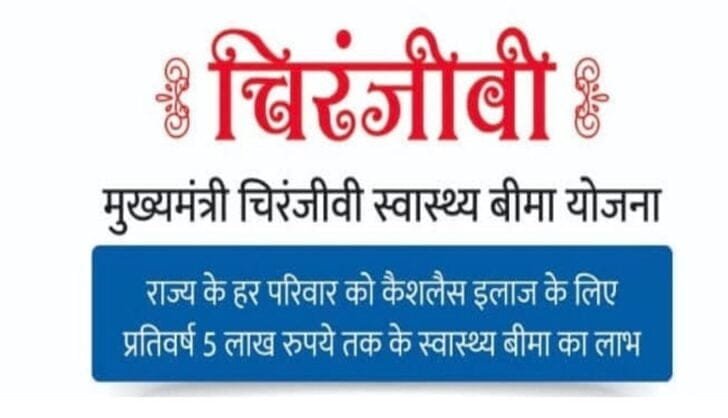 CM CHIRANJEEVI HEALTH INSURANCE SCHEME | RAS EXAM
Published on May 21, 2021 by Just Prep Raj |
Last Updated on June 8, 2023 by Just Prep Raj
INTRODUCTION
On 01 April, 2021, Rajasthan became the first state in India to offer health insurance to all its residents. The Government of Rajasthan took this initiative, considering the health and financial security of people, as in the last one year, our finances and health condition both got affected due to Covid-19. The State government has started Universal health coverage under the scheme known as " Chief Minister Chiranjeevi Health Insurance Scheme". This is a mediclaim scheme launched for all the families of the state and for the residents of all the age groups. As per this cashless scheme, every year insurance cover upto Rs. 5 Lakh is provided to each and every family of Rajasthan. This information was shared by Mr. Ashok Gehlot, Chief Minister of Rajasthan, in the State Budget 2021-22. The State government has stated the commencement of the registrations for this scheme from 01 April, 2021 to 30 April, 2021 but now the date is extended to 31 May, 2021. Features of Chiranjeevi Health Insurance Scheme  Focusing on the weaker sections of the society, this scheme covers all the major diseases including covid and haemodialysis, 1576 packages and procedures.
The budget of this scheme is appx. Rs. 3500/- crore.
Under this scheme, free health insurance is provided to all the families who come under the category of SECC (Socio Economic Caste Census), NFSA (National Food Security Act) and BPL (Below Poverty Line). Even members under NFSA and SECC are not required to get registered also.
Benefits of this scheme can be avail for free of cost by small farmers, contractual workers and families who were enrolled under "Ayushman Bharat Mahatma Gandhi Rajasthan Swasthya Bima Yojana".
Families who don't come under the above categories are required to pay 50 percent of the premium i.e. Rs. 850/- yearly to be a part of this scheme and the rest 50 percent premium will be borne by the government.
This scheme started on 01 May, 2021, International Labour Day.
On being admitted in Government or Private hospital that comes under this scheme, you will be eligible for a cashless medical treatment.
This scheme covers all the charges related to treatment before 5 days and after 15 days of admission in a hospital.
For every family for serious illness annual insurance cover upto Rs. 4,50,000/- and for normal diseases or illness annual insurance cover upto Rs. 50,000/- is offered under this scheme.
Marginal farmers, contractual workers and families can become a part of this scheme by registering themselves either through online mode using the link health.rajasthan.gov.in or through e-mitra. For registration, Aadhar card or Aadhar number or Aadhar registration receipt number is mandatory. State government employees and their families are not required to get associated with this scheme as Govt. of Rajasthan is bringing another scheme for them, known as 'Rajasthan Government Health Scheme'. Latest news
Under this scheme, for the treatment of covid, three packages are included by the government. The rates of these packages is from Rs. 5000/- per day to Rs. 9900/- per day. Initially two packages were there but now it is increased to three.
CM Chiranjeevi Health Insurance Scheme started on 01 May, 2021 and in just 15 days, more than 10,000 claims are submitted and over 8,000 families availed the benefits of this scheme.
Now all the residents of Rajasthan can get enrolled themselves under this Chiranjeevi health insurance scheme and get assured of cashless medical treatment for all the members of their family.