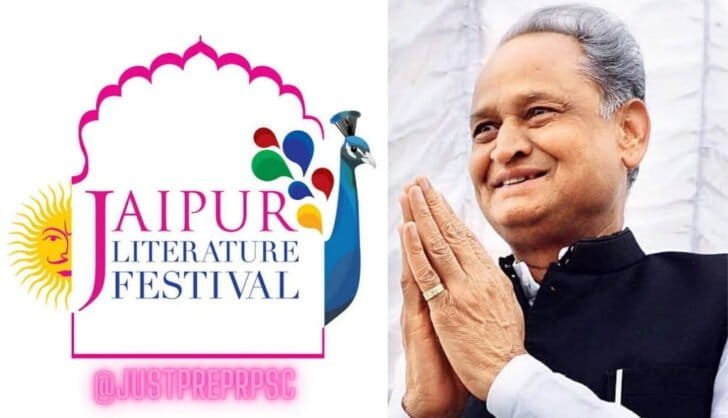 JAIPUR LITERATURE FESTIVAL | RAS | REET | PATWAR
Published on March 14, 2022 by Just Prep Raj |
Last Updated on March 15, 2023 by Just Prep Raj
INTRODUCTION
Rajasthan Tourism Minister Vishvendra Singh had announced to organize Jaipur Literature Festival from March 5 to March 14 of 2022. It is regarded as biggest book fair in the world.
HIGHLIGHTS
Due to pandemic, the 15th edition of the Literature Festival was held in hybrid mode at Clarks Amer instead of Diggi Palace.
The festival celebrates the works of various writers from 15 languages across the world.
Sessions associated with Rajasthan history, tradition, and culture are major attraction for visitors.
It aims to encourage indigenous and international works and their author.
Apart from classic literature like poetry, fiction, science and history, the sessions encompass theatre, cinema, climate, new world order, politics, and current issues.
The event is an affair of 3 days which has been conducted for 15 years.
It has contributed majorly to the employment opportunities in the state such as hotel, transport, handicraft, restaurants, jewellery etc.
It has hosted up to 5000 renowned and new speakers till now.
Special Speakers for the 2022 season are – 2002 Pulitzer Prize for Fiction finalist Jonathan Franzen; 2021 Booker winner Damon Galgut; Australian author and 2003 Booker winner DBC Pierre, Ruth Padel; Sahitya Akademi Yuva Puraskar recipient Tanuj Solanki; award-winning British-Turkish novelist, woman author of Turkey Elif Shafak; American academic and author of the award-winning books Edge of Empire, Liberty's Exiles and The Dawn Watch: Joseph Conrad in a Global World Maya Jasanoff, Robert Macfarlane, Padma Bhushan awardee Vidya Dehejia; and senior Indian journalist and National Award-winning filmmaker Vinod Kapri.
The organizers also conduct Music shows and heritage walks for the national and international delegations. This time singers and musicians like Ujwal Nagar and Smt. Sombala Kumar; Indian classical singer and composer Aastha Goswami; the storytelling collective The Aahvaan Project; and academic and musician Priya Kanungo have also performed.