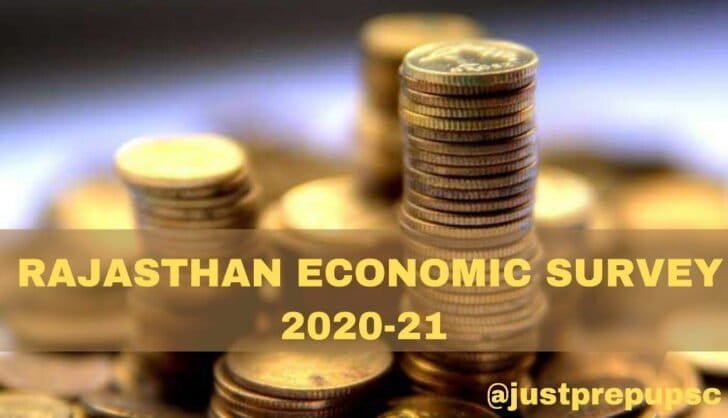 RAJASTHAN ECONOMIC SURVEY – 2020-2021 | EDUCATION CH-8 | RAS EXAM
Published on October 4, 2021 by Just Prep Raj |
Last Updated on March 14, 2023 by Just Prep Raj
OVERVIEW
The state government aims to build better and efficient educational infrastructure to improve the social-economic status of the people. It has taken measures to increase the quality of education by introducing various programs like Samagra Shiksha Abhiyan, Continuing Education Program, and Shakshar Bharat Mission.
Govt has begun to conduct Digital Online Classes for classes 6 to 12 during the COVID-19 pandemic. The innovative action for providing education has reached all the students across the state.
For children with Special Needs, the government has created various Whatsapp groups like 'State Inclusive Education Raj,' 'State Resource for Online Learning Group of CWSN,' 'State Online Learning Group of CWSN,' 'District Online Learning Group of CWSN, 'Block Online Learning Group for CWSN, to connect them with Special Teacher or Resource Person.
During the lockdown period, the State Doordarshan channel aired the 'Shikshadarshan educational program' for all classes for three and a quarter hours. The 55-minute audio teaching material was also being broadcasted every day on Akashvani.
As the schools were closed during the COVID-19 pandemic, food grains (wheat/rice) and channa dal were distributed to parents or guardians of the students between classes 1 to 8 of Government schools, Madarsas, and Special training centers under the Mid-Day Meal Scheme.
The DISE Report, 2019-2020, suggests that 62.4 lakhs students are enrolled in government schools in 35,331 primary schools, 19,639 upper primary schools, and 14,990 secondary schools.
During the financial year 2020-2021, State Book Board in Jaipur received an amount of Rs. 70 crores, out of which Rs. 38.70 crores were spent distributing free books to all government school students from classes 1- 8, under the Free Text Book distribution scheme.
An amount of Rs. 580 lakhs were expended on Pre-matric scholarships for SC, ST, OBC, SBC, and DTNT marginal area (OBC) students in the financial year 2020-2021.
During the financial year 2020-2021, the income limit of parents of the weaker section has been increased from 1 lakh to 2.5 lakhs for the admission of disadvantaged students in private schools through 25% seats under the section of 12G under the RTE Act 2009.
37,554 girls are studying in 319 Kasturba Gandhi Balika Vidyalaya (KGBV) shows that the state promotes girls' education.
There are 14,791 government secondary schools, 134 Swami Vivekananda Government Model schools, and 16,017 private secondary and senior secondary schools in the state where young girls and boys are given employment and entrepreneurship training.
For Higher Education, our state has 2,163 general education colleges, consisting of 322 government colleges, 16 government law colleges, 1,818 private colleges, 2 self-financing institutions, and 6 colleges established with private partnerships. There are 1,407 B.Ed colleges, 27 state self-financed universities, 51 private universities, and 7 deemed universities.
The state can admit 34,072 students into UG and PG level engineering programs. It has a total 88 number of technical colleges, out of which 11 autonomous colleges under state govt, 1 autonomous college under the central government, 4 constituent colleges of state universities, and 72 private unaided colleges.
There are 50 MBA institutes for PG level education, including 7 government established and 43 private institutes with the capacity of 3,402 students per year.
All of these technical and management institutes are affiliated with Rajasthan Technical University, Kota, and Bikaner.
Rajasthan has one IIT in Jodhpur, IIIT in Kota, MNIT in Jaipur, and IIM in Udaipur.
There are 23 medical colleges in the state, out of which 6 government colleges are under R.U.H.S (Rajasthan University of Health Sciences), and 7 government colleges under Raj-MES (Rajasthan Medical Education Society), and other remaining 8 belongs to the private sector.
The government has sanctioned the establishment of 15 new medical colleges under the CSS III plan. They will be located in Alwar, Baran, Banswara, Bundi, Chittorgarh, Jaisalmer, Karauli, Nagaur, Sri Ganganagar, Sirohi, Dausa, Jhunjhunu, Hanumangarh, Tonk, Sawai Madhopur.
There are 16 Dental colleges in the state, including 1 government under R.U.H.S and 15 are private colleges.