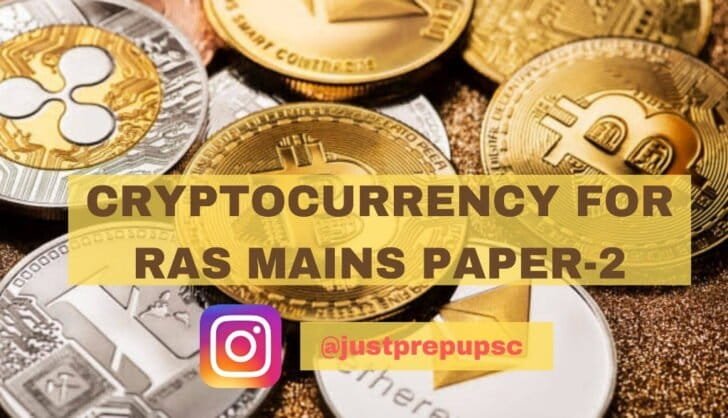 CRYPTOCURRENCY FOR RAS MAINS | PAPER 2
Published on December 8, 2021 by Just Prep Raj |
Last Updated on March 14, 2023 by Just Prep Raj
WHAT IS CRYPTOCURRENCY?
It is a form of digital or virtual currency.
It is an internet-based medium of exchange that for conducting financial transactions uses cryptographic functions.
They are the system that allows secure payments online.
They are built on the technology known as a blockchain, it is a decentralized technology that is spread across many computers that manage and records transactions.
They are not issued by any central authority.
They are derived from encryption techniques that are used to secure the network.
TYPES OF CRYPTOCURRENCIES –
There are more than thousands of cryptocurrencies trading publicly all over the market.
Bitcoin was the first blockchain-based cryptocurrency, launched in 2009 by Satoshi Nakamoto, it is the most valuable and popular among all.
There are some competing cryptocurrencies known as altcoins, which include Solana, Ethereum, Litecoin, EOS, Cardano, Peercoin, Namecoin.
ADVANTAGES AND DISADVANTAGES OF CRYPTOCURRENCY –
ADVANTAGES

–
Easier to transfer funds, between two parties, without the need for a third party.
There is a minimal processing fee, avoiding the extra fees charged by banks.
Secured
Promotes privacy.
DISADVANTAGES

–
Well suited for illegal activities.
Absence of regulation.
Highly volatile.
The entire ecosystem is not secure.
HOW TO EARN CRYPTOCURRENCY

?
Through crypto exchangers like cash app, coin bases, etc., any investor can buy cryptocurrency.
CRYPTOCURRENCY BILL
On November 29, 2021, the cryptocurrency and regulation of official digital currency bill is beginning on the agenda for winter session of the Indian government of the parliament.
In the parliament, the crypto bill 2021 will be introduced to ban all the private cryptocurrencies in India.
Reserve bank of India will issue the crypto bill which aims at creating facilitative framework for the creation of official digital currency.