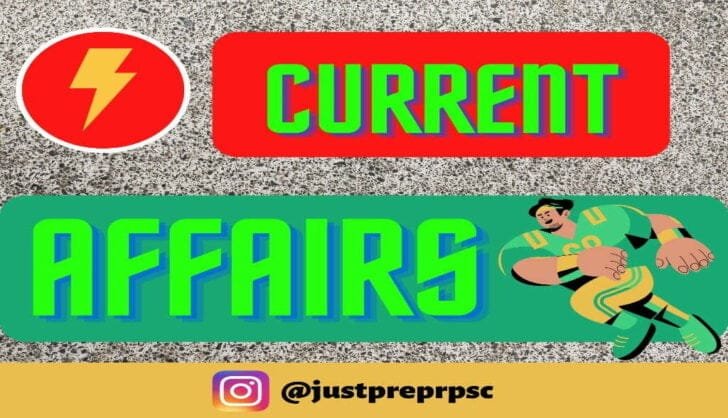 NATIONAL CURRENT AFFAIRS 10 JAN | RAS
Published on January 12, 2023 by Just Prep Raj |
Last Updated on March 15, 2023 by Just Prep Raj
NATIONAL NEWS | 10 JAN | RAS | PRE | MAINS
National News
10 January – World Hindi Day
        In 2006 Prime Minister Manmohan Singh had announced to celebrate World Hindi Day every year.
Verteran Actor-Director, Aparma Sen was honoured with the lifetime Achievement Award at the opening ceremony of the 15th edition of the Jaipur International Film Festival (JIFF)

The president of India, Droupadi Murmu has conferred the digital India Awards 2022.
The 7th edition of digital India awards was presented under 7 categories :

The e-Nam (Ministry of Agriculture and Farmer Welfare) was awarded the Platinum award in digital empowerment of citizens category.

E-vivechna App (MP) – Platinum award in Digital Initiatives at Grassroots level.

Mine Mitra (UP) – Digital Initiatives for ease of Doing Business Category.
Chief Justice of India (CJI), D.Y. Chandrachud has been selected for the 'Award for Global Leadership' by the Harvard Law School Center.

The World's First museum of Palm Leaf Manuscripts established in Thiruvananthapuram, Kerala.

Union Home Minister, Amit Shah has inaugurated the 122 foot high Sagol Kangjei statue at the 1 budhou Marjing complex in Imphal Manipur.
Sagol Kangjei – It is name of the game of Polo Played in Manipur.
PM Modi has launched the Aspirational Block Programme at the Second National Conference of Chief Secretaries in New Delhi.
AIM – To develop backward district
The Aspirational Block Programme is on the line of the Aspirational District Programme that was launched in 2018 and covers 112 districts across the country.
8. Surya Kumar Yadav becomes fastest player to reach 1500 runs in T20.
Other Popular Articles
Rajasthan Current Affairs| 13 DEC | RAS | PRE | MAINS
मौलिक अधिकार | मूल अधिकार | RAS | PRE | MAINS
राजस्थान प्रमुख भू-आकृतिक प्रदेश एवं उनकी विशेषताएँ | RAS | PRE | MAINS