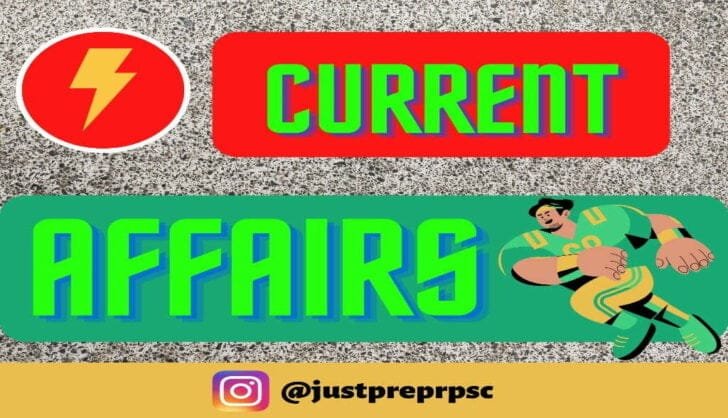 NATIONAL CURRENT AFFAIRS 18 JAN | RAS
Published on January 20, 2023 by Just Prep Raj |
Last Updated on March 15, 2023 by Just Prep Raj
NATIONAL NEWS | 18 JAN | RAS | PRE | MAINS
National News
The 21st Edition of the bilateral naval exercise between India and France 'VARUNA' was organized on the western seaboard from 16-20 January 2023.

The Patna circle of the Archaeological survey of India (ASI) has discovered two 1200-year old miniature stupas during landscaping activities near the Sarai Tila mound within the complex of the World Heritage Site 'Nalanda Mahavihara' in Nalanda district of Bihar.
The stupa is a hemispherical structure symbolizing the burial mound of Buddha.
Kerela's Kollam district has become the first constitution literate district in the country.

Food Safety and standard Authority of India (FSSAI) has specified Identify Standards for Basmati Rice (including Brown Basmati, Milled Basmati) for the first time.

Prime Minister Narendra Modi has announced a new 'Arogya Maitri' Project under which India will provide essential medical supplies to developing countries affected by natural disaster or Humanitarian crises.

Vidisha, an aspirational district of Madhya Pradesh become the first ever district in India for on ground deployment of innovative 5G use cases offered by startup.

European Union Inaugurates First Mainland Satellite launch Port.

Survival of The Richest Report : Oxfam
According to study – The richest 1% people in India now own more than 40% of the country's total wealth. While the bottom half of the population together share just 3% of health.
Victor Axelsen (Denmark) and Akane Yamaguchi (Japan) have won the men's and women's singles titles respectively in Malaysia Open Badminton 2023.
Other Popular Articles
सर्वोच्च न्यायालय | RAS | PRE | MAINS
मॉडल स्टेट राजस्थान | RAS | PRE | MAINS
Rajasthan Current Affairs| 13 DEC | RAS | PRE | MAINS