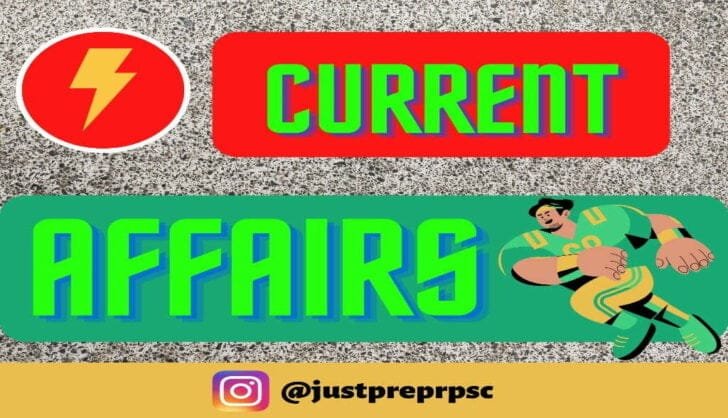 NATIONAL CURRENT AFFAIRS 19 JAN | RAS
Published on January 20, 2023 by Just Prep Raj |
Last Updated on March 14, 2023 by Just Prep Raj
NATIONAL NEWS | 19 JAN | RAS | PRE | MAINS
National News
Petrol containing Ethanol will start being available from April 1, 2023 at some selected places in country.
In a phased manner E20 i.e. 20% Ethanol blending in petrol will be available for use in vehicles.
National Council of Education Research and Training has notified India's First National Assessment Regulator 'PARAKH' with the aim of setting up assessment guideline for all Boards.
PARAKH:- Performance Appraisal, Review and Analysis of Knowledge for Holistic Development.
The Biggest decline in the population of China has been recorded after the year 1961. Negative Population growth has own started in China.

A two-day meeting of the Think-20 group was organized under the G-20 on 16-17 January 2023 in Bhopal, Madhya Pradesh.
Theme:- Global Good Governance with an environment friendly lifestyle, moral values and well being.
NASA James Web Space Telescope discovers new Exoplanet named LHS475b.
Exoplanets are planets that orbit other stars and are away from our solar system.
According to NASA, more than 5,000 Exoplanets have been discovered so far.
Former BSF Chief Pankaj Kumar Singh appointed as Deputy NSA.

The list of world's richest actor was released on the Twitter account of world of statistics, in which Indian actor Shah Rukh Khan has overtake Hollywood star Tom Crusie to become the world's richest actor.
(i) Jerry Seinfeld (American)
(iv) Shah Rukh Khan (India)
Minister of Health and Family Welfare Mansukh Mandaviya officialy launched the Book Braving a Viral storm : India's Covid-19 vaccine story published by Ashish Chandorkar.
The Book describes India's progress in Vaccination.
Other Popular Articles
राजस्थान के लोक देवी एंव देवता
Prime Minister | RAS | PRE | MAINS
संविधान की प्रस्तावना | RAS | PRE | MAINS