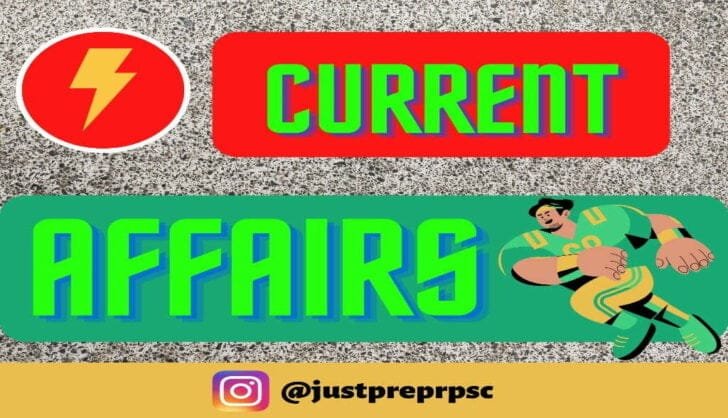 NATIONAL CURRENT AFFAIRS 27 DEC | EKALABYA PURUSKAR | RAS
Published on December 28, 2022 by Just Prep Raj |
Last Updated on March 24, 2023 by Just Prep Raj
NATIONAL NEWS | EKALABYA PURUSKAR |27 DEC | RAS | PRE | MAINS
National News
The 'Ekalabya Puruskar' for the year 2022 was present to cyclist Swasti Singh.
         This award is given every year to encourage young sporting talents.
Indian Female Wrestler Antim Panghal nominated for United World Wrestling Rising star of the year.
'Garuda' Aerospace becomes first drone company ever to get double certification by DGCA for Kisan Drones'.
      DGCA – Directorate General of Civil Aviation.       Kisan Drone – Made in India 'Kisan Drone' specially developed for agriculture purposes such as reducing crop losses, crop health monitoring, yield management etc.
Inida and Japan conduct their first ever bilateral combat air exercise 'Veer Guardian 2023' from 16 – 26 Jan 2023.
Renowed Researcher and Madras IIT Madras Professor Pradeep Thalappi has received the VinFuture Prize 2022 in Hanoi.
         He has also received the Padma Shri Award in 2020 for his contribution to the field of S&T.
The International Monetary Fund (IMF) has predicated the India's GDP growth rate of 6.8% for the current fiscal year (2022-23).

Badminton player, Geto Sora(7) from Arunachal Pradesh has won title of 2022 Junior International Badminton Championship in Kuala Lumpur, Malaysia.

Hockey India has announced Harmanpreet Singh as the captain of the India Men's Hockey team for the FIH Odisha Hockey Men's World Cup 2023.

England all rounder Sam Curran emerged as the most expensive player in the IPL's History as Punjab Kings bought him for Rs 18.50 crores.

Pushpa Kamal Dahal 'Prachanda' appointed as the Prime Minister of Nepal for the third time.

Sitveni Rabuka becomes the New Prime Minister of Fiji.
         Fiji – it is an archipelago of 300 islands in the South Pacific Ocean near New Zealand.          Capital – Suva          Currency – Fijian Dollar
FREQUENTLY ASKED QUESTIONS
Q.01 What does the IMF International Monetary Fund do?
Ans: The IMF is an organization of 189 member countries that works to foster global monetary cooperation, secure financial stability, facilitate international trade, promote high employment and sustainable economic growth, and reduce poverty around the world.
Q.02

What is the role of IMF in India?
Ans: The objectives of IMF is macro-economic growth, alleviation of poverty and economic stability, policy advice & financing for developing countries, forum for cooperation in monetary system, promotion of exchange rate stability and international payment system.
Q.03 Who is Antim Panghal?
Ans: Antim Panghal made history this year by becoming India's first Under 20 world champion. She is also the reigning junior Asian champion in the 53kg category. Indian women's wrestler Antim Panghal has been nominated for United World Wrestling 2022 Rising Star of the Year award.
Q.04 Who has received the 30th Eklavya Puraskar recently?
Ans: Indian Cyclist Swasti Singh gets 30th Ekalabya Puraskar.
Other Popular Articles