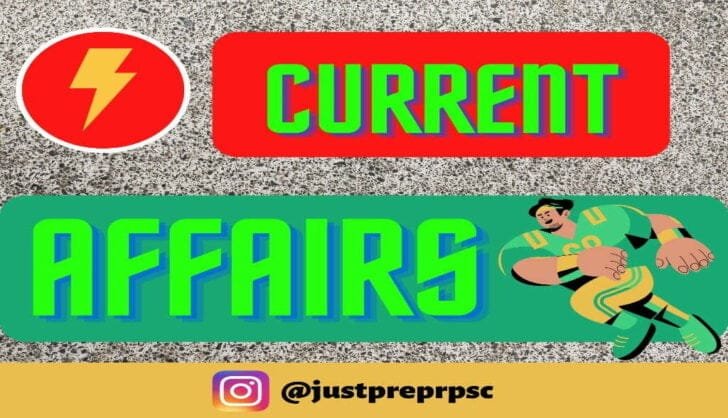 NATIONAL CURRENT AFFAIRS 4 JAN | RAS
Published on January 6, 2023 by Just Prep Raj |
Last Updated on March 15, 2023 by Just Prep Raj
NATIONAL NEWS | 4 JAN | RAS | PRE | MAINS
National News
Election Commission appoints Maithili Thakur as Bihar's state icon.
She was recently selected for the Ustad Bismillah Khan Yuva Puruskar of the Sangeet Natak Akademi for her contribution to the folk music of Bihar for 2021.
Pravasi Bharatiya Divas 2023
    January 8-10-2023.
    Indore, Madhya Pradesh, India
The Government of India has selected 27 people for the highest honour for overseas Indian, Pravasi Bharatiya Samman Award 2023.

President of Guyana Mohammad Irfan Ali will be the chief guest this year.
Captain Shiva Chauhan becomes the first women officer to be operationally deployed at the highest battleground in kumar post on the Siachen glacier.

Prime Minister Narendra Modi will launch the world's longest River Cruise, which will travel from Varanasi in UP to Dibrugarh in Assam via Bangladesh on 13 January 2023.
Cruise Name – Ganga Vilas Cruise.
This will be the single largest river journey by a single river ship in the world.
The Meitei Community of Manipur celebrated Imoinu Iratpa festival every year.
They regard the Imoinu goddess of wealth and prosperity.
Defence Minister Rajnath Singh has inaugurated the 100 metre, Siyom Bridge in Siang district of Arunachal Pradesh.

Hyderabad will become the first city in India to have hundred percent sewerage facilities by next April.
Other Popular Articles
मॉडल स्टेट राजस्थान | RAS | PRE | MAINS
संविधान की प्रस्तावना | RAS | PRE | MAINS
Rajasthan Current Affairs| 16 DEC | RAS | PRE | MAINS