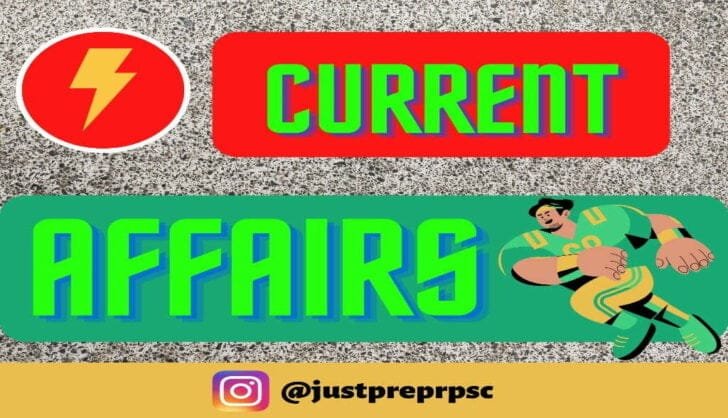 Rajasthan Current Affairs 2021 – 4th September
Published on September 4, 2021 by Just Prep Raj |
Last Updated on March 15, 2023 by Just Prep Raj
NATIONAL AFFAIRS
Ashok Kumar Tandon heads the committee constituted by Ministry of Information and Broadcasting to review guidelines of Journalist Welfare Scheme.
PM Modi addressed 37th edition of PRAGATI (Pro-Active Governance and Timely Implementation) Meeting.
India's first interactive geospatial website 'Pulse' to provide insights on digital payments launched by PhonePe.
NASSCOM pair up with Taiwan-India Artificial Intelligence Technology Innovation Research Centre to help Indian tech start-ups to access hardware components from Taiwan.
Manipur CM inaugurated an electronic Inner Line Permit (ILP) developed with the help of Cubeten Technologies Pvt. Ltd. to track the visitors in the state.
18 benefit schemes to be launched by Ministry of Women and Child Development of Maharashtra under 'Mission Vatsalya' to support women who lost their husbands due to COVID-19.
INTERNATIONAL AFFAIRS
India headed the 6th meeting of BRICS (Brazil, Russia, India, China and South Africa) energy ministers 2021.
UNEP (United Nations Programme on Environment) officially announced the eradication of toxic leaded petrol from the world.
India's finance minister Nirmala Sitharaman addressed the 11th India-UK EFD (Economic Financial Dialogue) meeting; both countries signed an agreement of worth USD 1.2 billion to invest in green projects and renewable energy to encourage India's green growth objectives.
BRICS approves the admission of Uruguay, United Arab Emirates and Bangladesh to its New Development Bank.
India bags total 20 medals (6 Golds, 9 Silver and 5 Bronze) in Asian Youth boxing Championship held in Abu Dhabi.
Jacques Rogge, the former president of International Olympic Committee, passed away.
RAJASTHAN STATE AFFAIRS
Jaipur's Avani Lakhera wins bronze in 50-meter Air Rifle category in 202 Tokyo Paralympics.
Camel Cart Mobile library started in 30 villages of Jodhpur district under International Reading Campaign 2021.
Kota Rural Police ranked first in the 'Performance Measurement System' report released by the Rajasthan Police Commissionerate.
Dr Monika Soni and Prof. Shoorveer Bhanawat received silver award for their research paper on 'Accounting and Taxation Issues in Carbon Credit Transaction' by the Institute of Charted Accountants of India, New Delhi.
Athletes from Udaipur bags 9 medals in National Karate Championship organized in Faridabad.
Sarbananda Sonowal organized 'Aayush Week' in National Ayurveda Institution Jaipur under Aazadi Amrita Mahotsav Campaign.