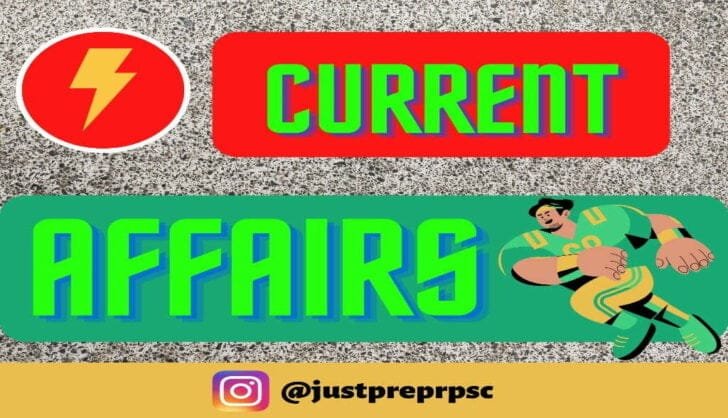 NATIONAL CURRENT AFFAIRS | 17 JAN | RAS
Published on January 20, 2023 by Just Prep Raj |
Last Updated on March 15, 2023 by Just Prep Raj
NATIONAL CURRENT AFFAIRS | 17 JAN | RAS | PRE | MAINS
National News | Current Affairs
India and Japan will hold Joint exercise to strengthen cooperation in Air Defence.
Veer Guardian 2023 exercise will be held from 12 January to 26 January 2023 at Hyakuri Air Base in Japan.
The Union Cabinet chaired by Prime Minister Narendra Modi approved Antyodaya Ann Yojana and New Integrated Food Security Scheme to provide free food grain to Primary Household beneficiaries.
The new scheme has been named Pradhan Mantri Garib Kalyan Anna Yojana.
3.The Book titled Revolutionaries : The other story of How India won its freedom was released by Home Minister Amit Shah at a function in New Delhi.
DRDO developed a UAV for operations in the Himalayan Frontier to improve logistics operations in the Himalayan region.

Captain Surbhi Jakhmola becomes first woman officer to be posted at Border Road Organization (BRO).
Recently, The India Air Force deployed squadron leader Avani Chaturvedi, a women fighter Piolet to Japan for Veer Guardian 2023 training.
Miss USA, R'Bonney Gabriel (28) has been crowned the Miss Universe 2022 at the 71st Miss Universe Peagent organized in New Orleans, Louisiana.

Thiru Kumar Nadesan has been awarded the Pravasi Bharatiya Samman Award for his contribution towards community welfare.

The organization for Economic Co-operation and Development (OECD) appointed UK Treaury Adviser, clare Lombardelli as the next chief economist, with effect from 2 May 2023.

Noted writer K Venu has been bagged the first-ever Federal Bank Literary Award 2022 for his Autobiography 'Oranweshanathinte Katha'.

SS Rajamouli film 'RRR' won the 28th Critics Choice Awards 2023 for best foreign language film and Best Song.
The film 'Rise, Roar, Revolt' i.e. RRR recently received the Golden Globe Award for the song 'Naatu Naatu'.
         RAS | PRE | MAINS
NATIONAL CURRENT AFFAIRS 21 JAN | RAS
NATIONAL CURRENT AFFAIRS 20 JAN | RAS
NATIONAL CURRENT AFFAIRS 19 JAN | RAS