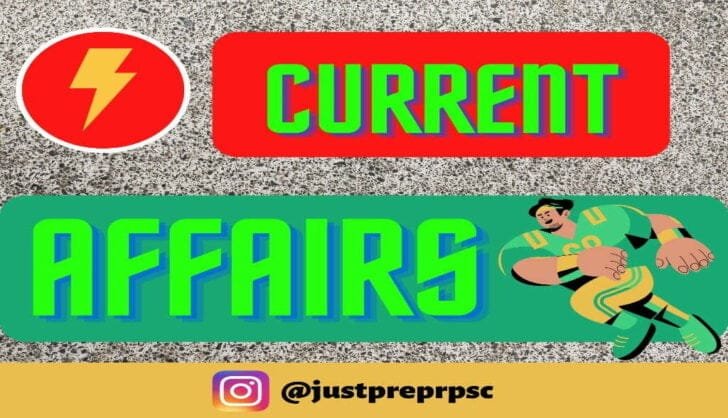 NATIONAL CURRENT AFFAIRS 20 JAN | RAS
Published on January 21, 2023 by Just Prep Raj |
Last Updated on March 14, 2023 by Just Prep Raj
NATIONAL NEWS| CURRENT AFFAIRS | 20 JAN | RAS | PRE | MAINS
National News | Current Affairs 
National Award Winning movie 'Toolsidas Junior' will be screened at the Shanghai Cooperation Organization Film Festival in the children focus section.
The Festival will take place from 27-31 January 2023 in Mumbai.

'Toolsidas Junior' has already won two National Awards – Best Hindi Film and special mention in Child Actor Category for the leading child actor Carun Buddhadev.
India-American Krishna Vavilala received the Martin Luthar King Grande Parade Special Awards for his Contributions for connecting the Indian diaspora with mainstream America.

India and Egypt are set to hold the first ever military exercise involving the special forces in Udaipur, Jaipur and Jodhpur.
It is being held to celebrate the 75 year of diplomatic relation between the two countries.
The Global Firepower Report 2023 has ranked India as the 4th most powerful army in the world.

The Secretary Meity, Alkesh Kumar Sharma has launched the Technology for Air Quality Monitoring System (AI-AQMS v1.0) developed under Meity supported projects in Delhi.
It will monitor environmental pollutants which include parameters like PM 1.0, PM 2.5, PM 10.0, SO2, NO2, CO, O2, relative humidity etc. for continuous air quality analysis of the Environment.
The Ministry of Tourism will organize the first Global Tourism Investors Summit from 10-12 April 2023.

The World Economic Forum (WEF) has chosen Hyderabad to set up its center for the fourth Industrial Revolution focused on Healthcare and life science.

Shubham Gill (23) has become the fifth Indian Players to score a double-Hundred in the one day International (ODI) match against New Zealand.
Other Popular Articles
Prime Minister | RAS | PRE | MAINS
भारत का राष्ट्रपति | RAS | PRE | MAINS
NEW ADDITIONS IN RAS PRE SYLLABUS 2021