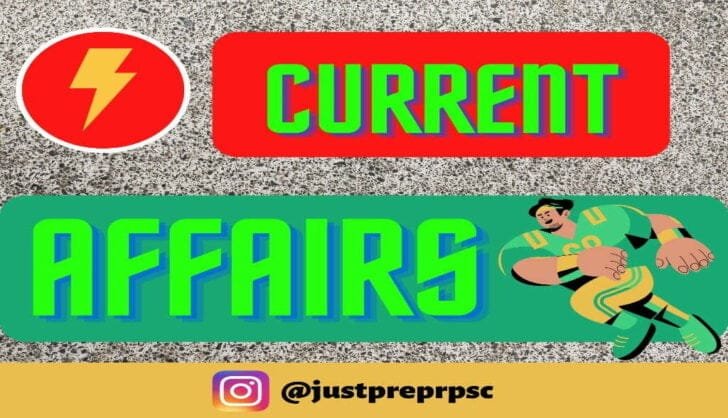 NATIONAL CURRENT AFFAIRS 15-16 JAN | RAS
Published on January 20, 2023 by Just Prep Raj |
Last Updated on March 15, 2023 by Just Prep Raj
NATIONAL CURRENT AFFAIRS| 15-16 JAN | RAS | PRE | MAINS
National News | Current Affairs
Army Day – Army Day is celebrated in India every year on 15 January in the memory of the soldiers and the Indian Army.
On January 15, 1949 Field Marshal Kodandera M. Cariappa took over as the first Indian Commander in chief of the Indian Army.
India's fastest payment app 'PayRup' has been launched.
PayRup is built by the cutting edge Technology of Web 3.0
Digital India startup Hub through software technology parks of India will set up India's first centre of excellence for online gaming in Shillong.

The 14th Edition of the World Spice Congress (WSC) is to be held in Mumbai from 16-18 Feb 2023.
Objectives :- 
To open up newer opportunities to promote the international trade of Indian Spices.
Uttarakhand Governer Gurmeet Singh has given assent to a bill providing for 30% horizontal reservation for Domiciled Women Citizens of the state in public services and posts.

The 'Soul of Steel' challenge was launched in Uttarakhand on January 14. Which aims to test Endurance at High Altitude.
The India Army has signed MOV with CLAW (Conquest Land Air and Water) Global to promote adventure sports in Uttarakhand and promote tourism in the border states.
Senior IAS officer A. Santhi Kumari has been appointed as the new chief secretary of Telangana.

Falak Mumtaz, 11 year old Kashmiri girl from a far-flung area won a gold medal at the National Level in the Sqay Championship.

Indian Railway to start 'Bharat Gaurav Deluxe AC Tourist Train' between Ayodhya to Janakpur.
NATIONAL CURRENT AFFAIRS | 17 JAN | RAS
NATIONAL CURRENT AFFAIRS 14 JAN | RAS
NATIONAL CURRENT AFFAIRS 13 JAN | RAS